It's a Great Time to Try Something New!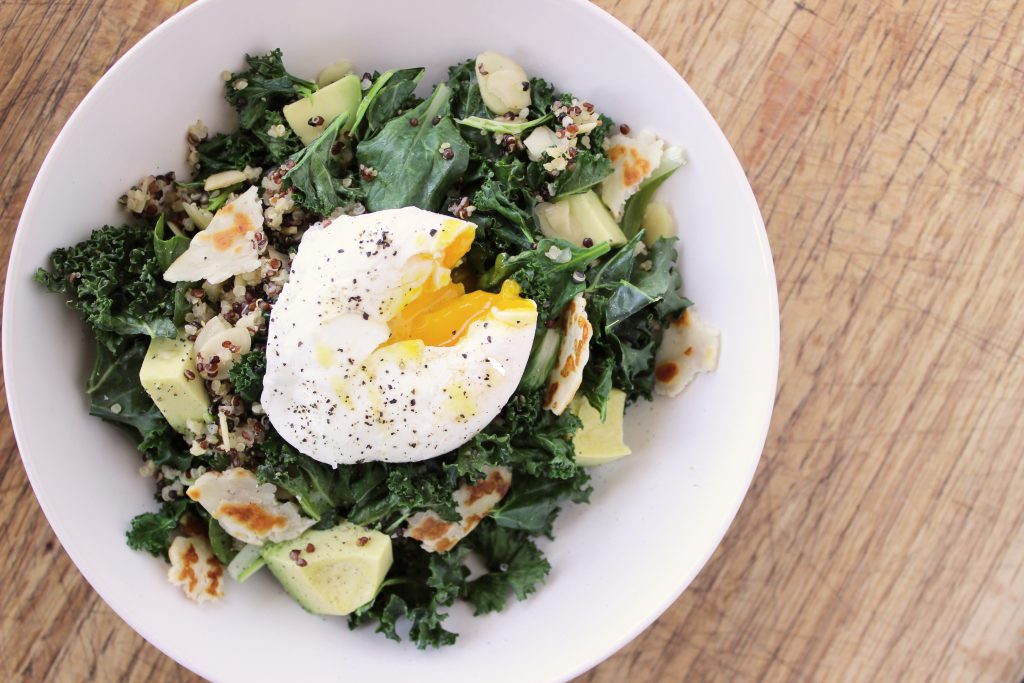 Ever thought about having salad for breakfast? For those of us who prefer savory to sweet in the morning, it's the perfect way to increase your consumption of healthy greens. But this is no ordinary salad — it's chock full of healthy grains, fats, and has a punch of protein, too! Give this idea a try — You will really feel that you've started off your day right! You can make the quinoa/millet ahead of time, as well as the cheese. FYI, Halloumi cheese is a semi-hard, unripened cheese, generally made from a combination of sheep and goat's milk. It has a high melting point, so it is terrific grilled or fried, as in this recipe.
Warm Super Green Breakfast Salad
YOU'LL NEED:
1/4 cup organic quinoa
1/4 cup organic millet
2 TBSP organic coconut oil
1 clove organic garlic
1 TBSP chopped almonds
1 handful of organic green kale
1 handful of organic baby spinach
2 slices halloumi cheese
1 organic cage-free egg
1/3 organic lemon, for juice
1/2 organic ripe avocado, sliced
INSTRUCTIONS:
Place quinoa and millet in a medium pan and cover with 1 cup water. Cook on medium heat until tender but still firm (not mushy) Drain and set aside
In a medium pan, melt 1 TBSP coconut oil over low heat. Place halloumi cheese in the skillet and fry until golden, turning occasionally. Remove and set aside .
Add the remaining 1 TBSP coconut oil to the pan and sauté the garlic and almonds until the almonds are lightly toasted. Add the quinoa/millet mixture and stir to blend. Add the kale and spinach for just a minute — stirring until barely soft, but not wilted. Remove from the heat and place into a large shallow bowl or plate.
Cook the egg to your preference — poached, soft boiled, or fried over-medium. We recommend poached. To poach an egg, fill a small saucepan 2/3 full with water and bring to a boil. Turn the heat to a simmer. Crack an egg into a small measuring cup with a handle. Careful lower the measure cup into the water and tip the egg out. Let the egg cook at a simmer for 4 minutes. Using a slotted spoon, carefully remove the egg from the water. Pat dry.
While the egg is cooking, assemble the salad with the greens, cheese and avocado.
Top the salad with the egg, then squeeze some fresh lemon juice and crack some fresh pepper and Himalayan pink salt over the top. Yum!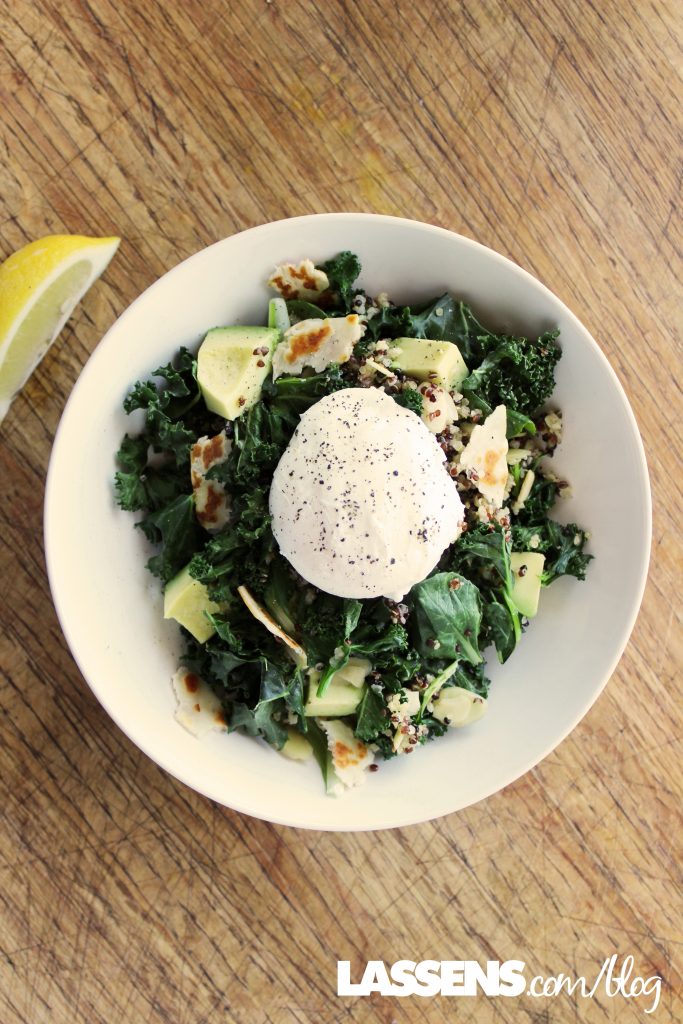 This breakfast helps me feel that I can tackle anything!
Love,
Lassen's