Another Healthy and Fresh Salad!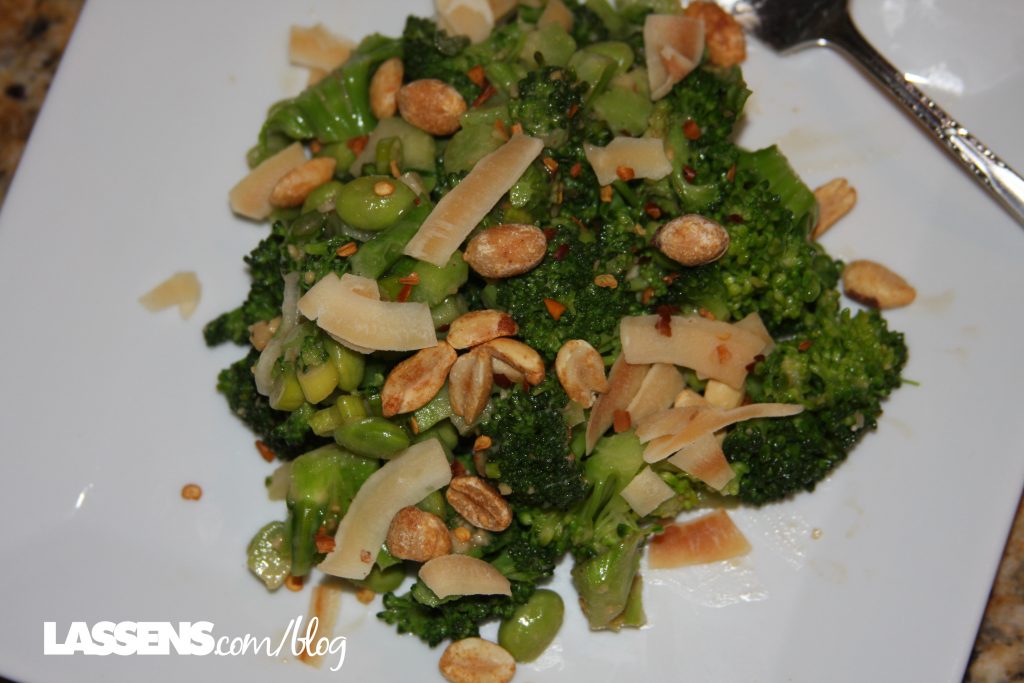 There's no doubt that broccoli is one of those super healthy foods — high in vitamin C and K, fiber and even some minerals, but low in carbohydrates. I love roasted broccoli, but also love to use it as the star in salads — even for a whole meal. This recipe would be great center stage, and if you want to add some shredded chicken or cubed tofu, you'll have even more protein. This one also whips up quickly, so there's no excuse!
Broccoli Salad with Thai Peanut Sauce
You'll need:
1 large bunch organic broccoli, with stems peeled, and then chopped
1 cup frozen organice edamame
2 organic green onions, sliced
Roasted organic peanuts, to garnish
Toasted coconut, to garnish (I used Dang brand)
Crushed red chili pepper, to garnish
Garlic Peanut Sauce:

1/3 cup natural organic peanut butter
3 TBSP rice vinegar
2 TBSP agave syrup
2 TBSP tamari sauce
1 clove organic garlic, minced
1 tsp salt
1/4 tsp (or to taste) crushed red chili pepper
Bring 2 qts water to boil
Meanwhile, peel the stems of the broccoli and chop roughly
When the water comes to a boil, drop the broccoli into the water, and then blanch the broccoli briefly. It will be in the water about a minute.
Put the frozen edamame in the bottom of a colander
Pour the broccoli into the colander, and then rinse with cold water to halt the cooking. The broccoli will be bright green.
Drain and set aside.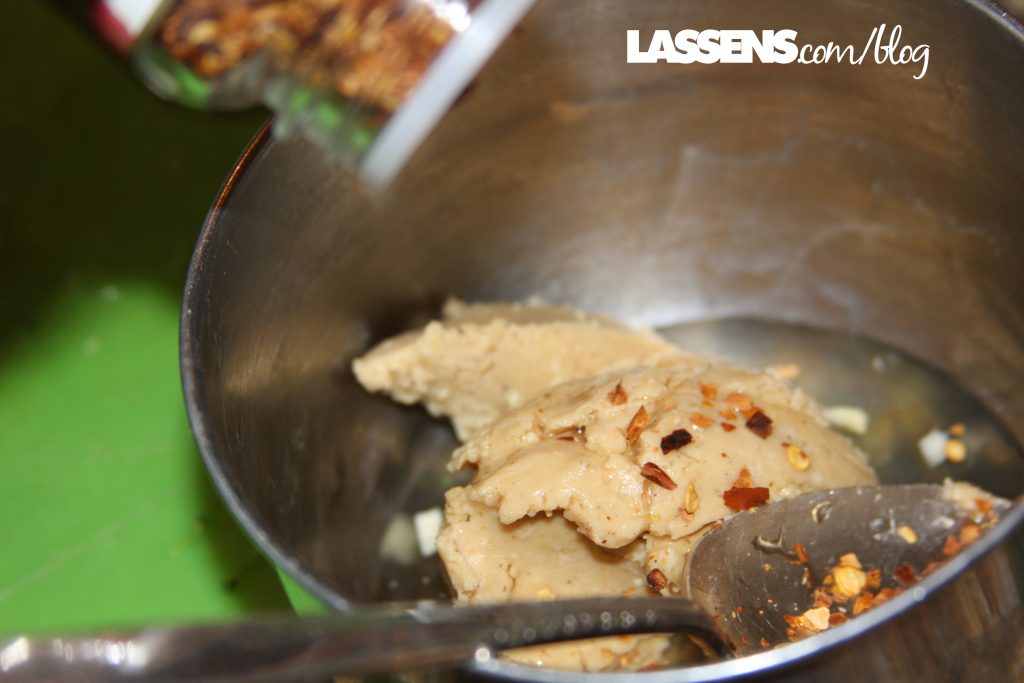 Blend all of the ingredients for the sauce together until smooth
Put the broccoli into a serving bowl, and then pour the sauce over the broccoli
Toss to blend, then garnish with peanuts, coconut, and a sprinkle of crushed red chili pepper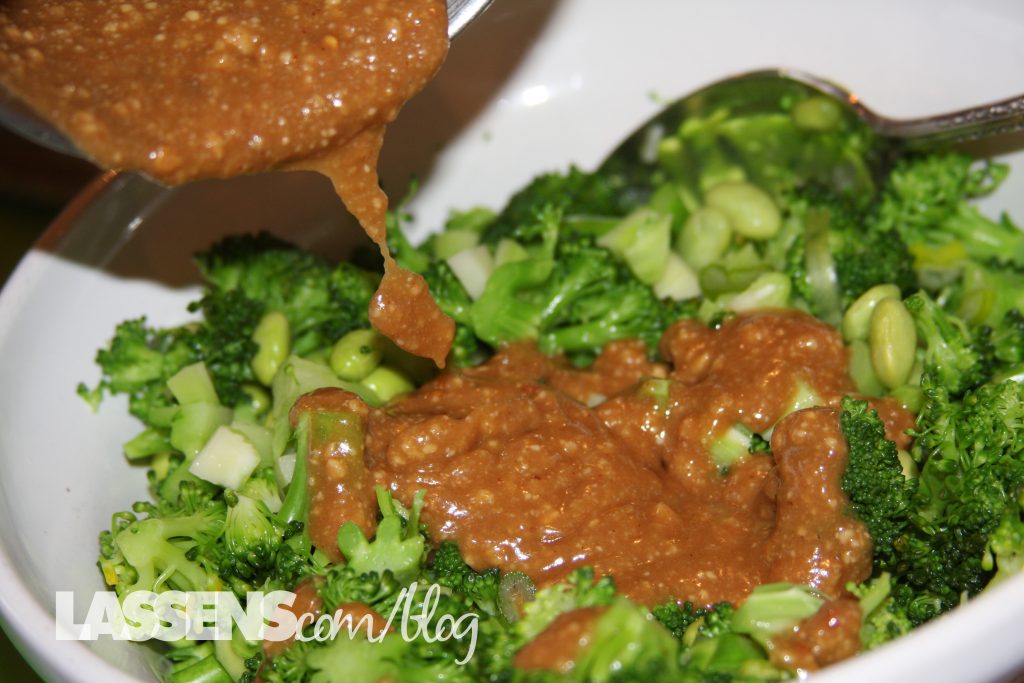 Enjoy the fresh and fun taste of this salad any time!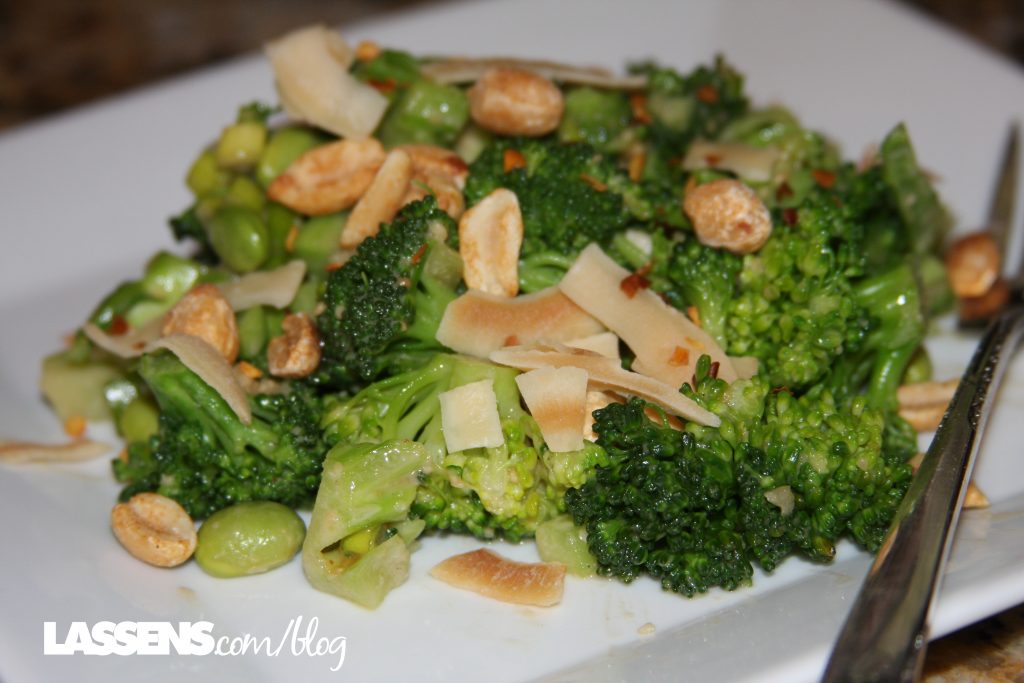 Love,
Lassen's