Here's a Recipe to Fancy Up That Salmon!
I love salmon, and often order it in restaurants, since they often find ways to prepared and serve it so beautifully. But to the rescue! You too can fancy up your salmon at home!
Salmon is full of healthy Omega 3 fatty acids, niacin, B-vitamins, and of course protein. Salmon is considered a "heart-healthy" food, and diets rich in Omega-3 fatty acids decrease the risk of heart attack, strokes, heart irregularities, and high blood pressure. Brains, bones, joints, and vision can all benefit from are a diet with more salmon. The American Heart Association recommends eating salmon  or other fatty fishes high in Omega 3s twice per week for their healthy benefits.
And beets are no nutritional slouches, either. Their fiber helps reduce the bad LDL cholesterol, and increase the good HDL cholesterol, thus reducing the risk of heart disease.  They are high in folate, and in some studies have also been shown to contribute to a lowered risk of certain cancers, including skin, lung, and colon cancer. They are chock-full of vitamins, minerals, and other nutrients — a perfect complement to heart-healthy salmon!
So try this recipe to strengthen your heart health (as well as have a delicious meal)!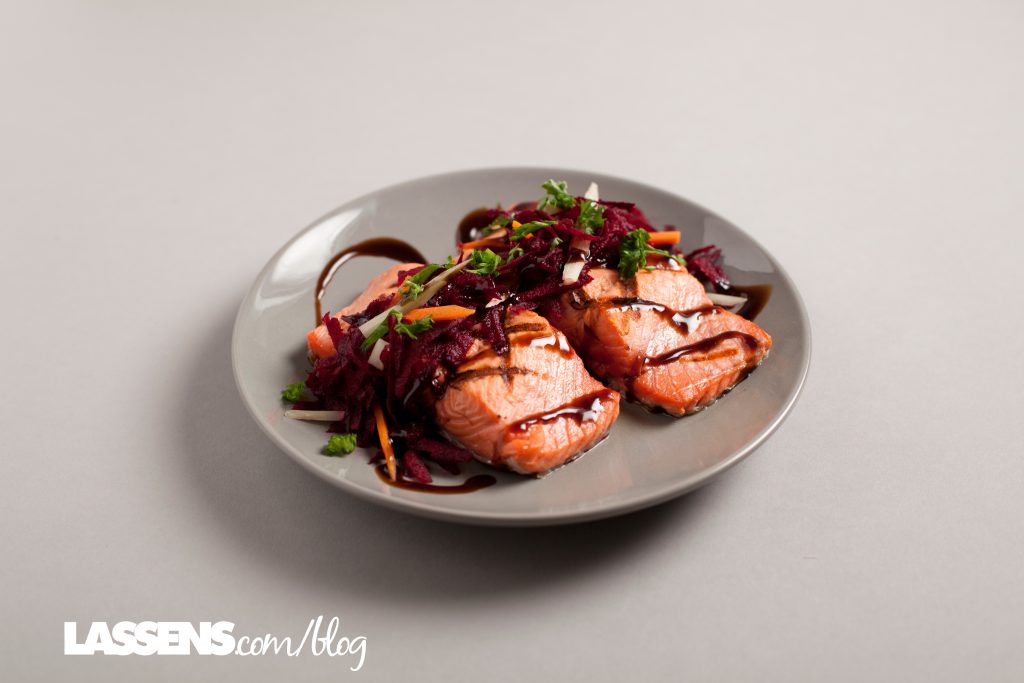 Grilled Salmon with Beet Slaw
You'll Need:
2 wild-caught salmon filets
Beet Slaw:

Two large beets, peeled and shredded
1 large organic carrot, peeled and cut julienne style
1 bulb organic fennel, thinly sliced, julienne style
1/4 cup organic parsley, minced

Balsamic vinegar reduction for garnish
Dressing

1/4 cup organic olive oil
1/4 cup organic apple cider vinegar
1/2 TBSP sea salt, or to taste
1/2 TBSP black pepper, or to taste
Instructions:
Combine the beets, carrot, fennel and parsley
Mix the dressing, and then toss into the vegetables
Allow to marinate for at least an hour
Grill the salmon until barely flaking
Place salmon on a serving dish, top with the beet slaw, and then drizzle with balsamic vinegar reduction
serve!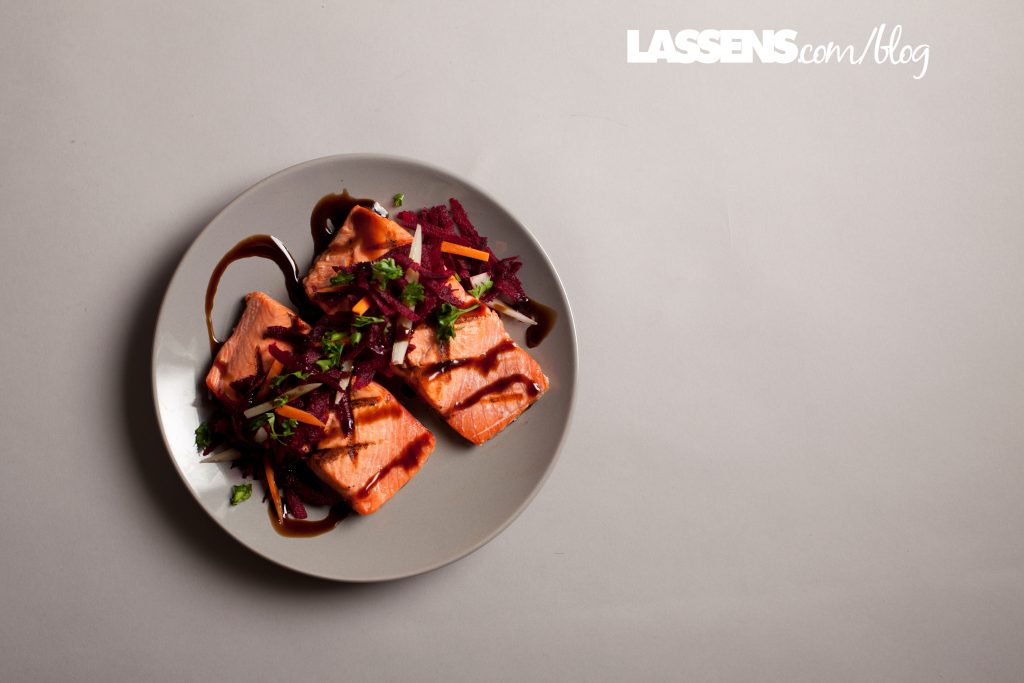 Your heart and your sweetheart will thank you!
Love,
Lassen's