Put some Pow in Your Day!
Have you heard of Smoothie Bowls? They can provide a powerful punch of nutrition in one delicious bowl! Lassen's is now offering smoothie bowls in our delis, and you can make them yourself as well! Here is a new Acai Smoothie Bowl recipe that we are featuring this month!
Acai berries are the fruit from a South American palm tree, and look like a mix of  grapes and blueberries. The trees are found in the Amazon River basin. The berries are often included in lists of superfoods, since they are high in heart-healthy fats, fiber, and anti-oxidants. In fact, some studies have shown that the acai berries have ten times the anti-oxidants as red grapes! The berries start to degrade quickly after harvesting, so you won't likely see fresh acai berries in the produce aisle. They are quickly harvested, processed (to remove the seeds), and frozen to retain the nutrients. If you'd like to learn more about acai berries and their health benefits, I found this article very helpful.
So here's the recipe for our great acai smoothie bowl!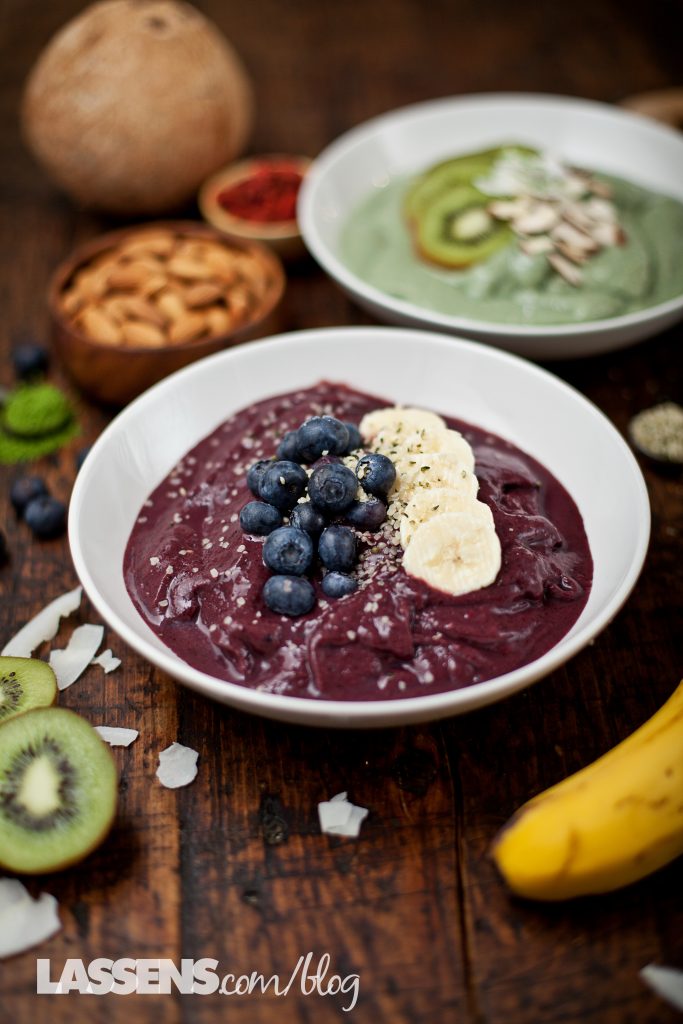 Acai Smoothie Bowl
Makes one large or two small bowls
You'll Need:
1 frozen organic acai bar (3.5 oz)
8 oz organic coconut water
2 organic bananas (frozen works best)
12 oz organic frozen blueberries
4 oz organic dates
1 tsp organic ginger
2 oz organic hemp protein
fresh organic banana slices and blueberries for topping
1 TBSP organic sliced almonds
2 tsp organic goji berries
1/2 tsp hemp seeds
Instructions:
Place the first seven ingredients  in a blender and blend until smooth
Top with banana slices, blueberries, almonds, goji berries, and hemp seeds
enjoy!
This smoothie bowl will be a great start to your healthy day!
Love,
Lassen's