Pamper Your Special Ones with Your Own Oils and Skin Care Products!
It's so fun to make gifts for friends and family members, and these easy-to-make body care items with be a big hit!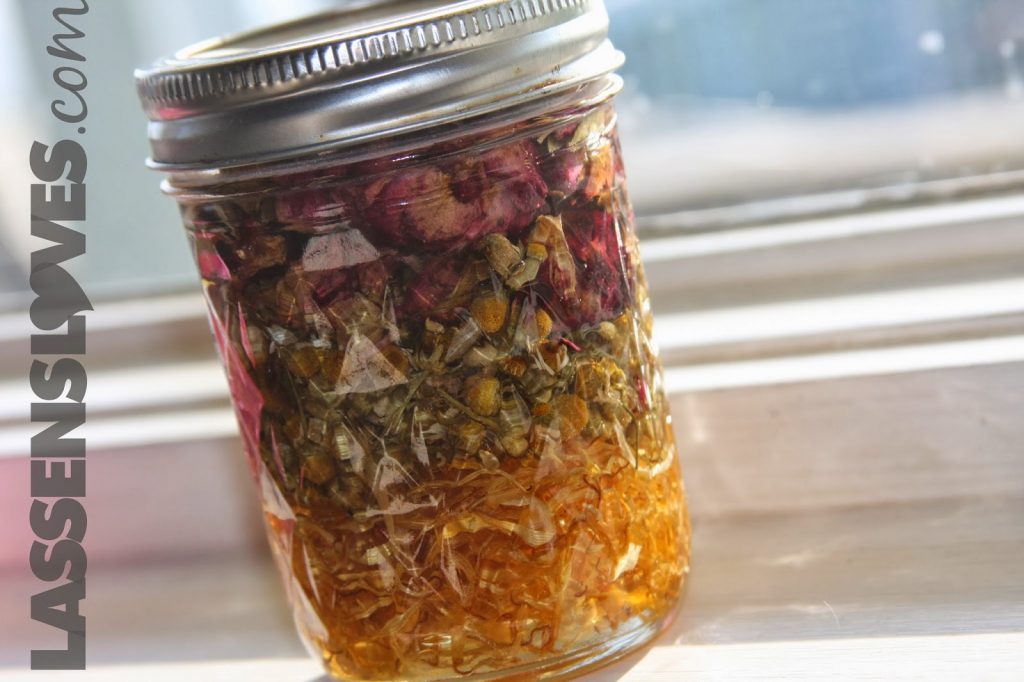 Gentle Herbal Massage Oil
1- 1 1/2 cup Organic Sweet Almond Oil
An assortment of flowers–I used Calendula, Rose buds, and Chamomile
2 tsp Vitamin E oil
Put the flowers in a jar and then pour the oil over them. Cover and then let sit for about a month. I put mine on the window sill and turned it every day or so.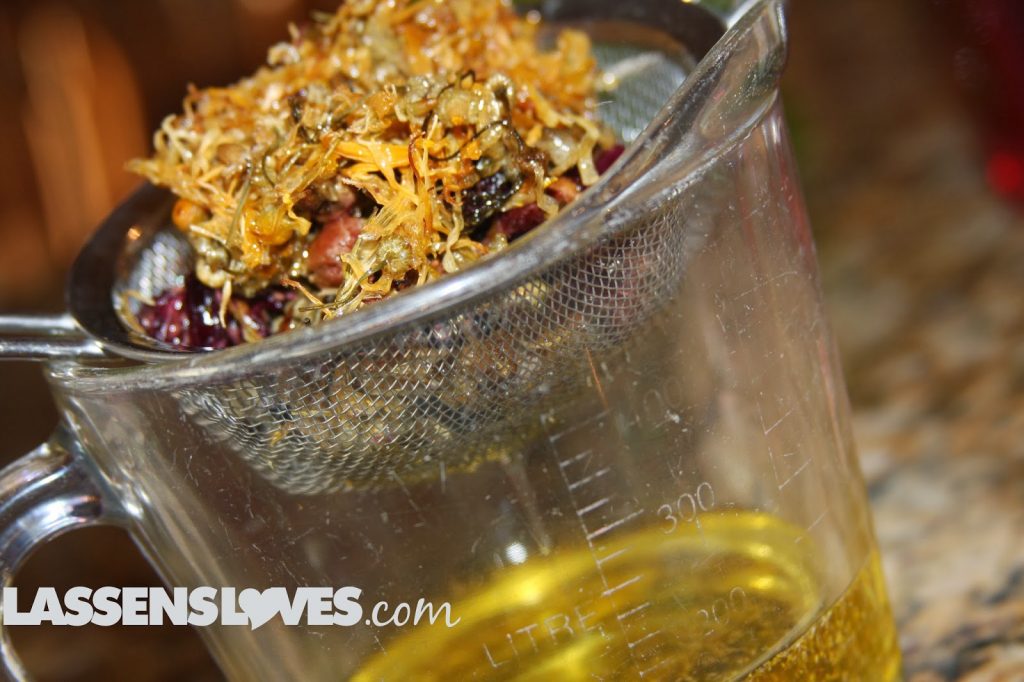 After a month, strain out the flowers, add the Vitamin E oil, and then pour into a bottle. I bought a bunch of bud vases and corks from a hobby store, but an assortment of thrift-store jars would be great, too!  For this oil I used one of those decorative bud vases with a cork.
Arnica-Lemon Herbal Relief Oil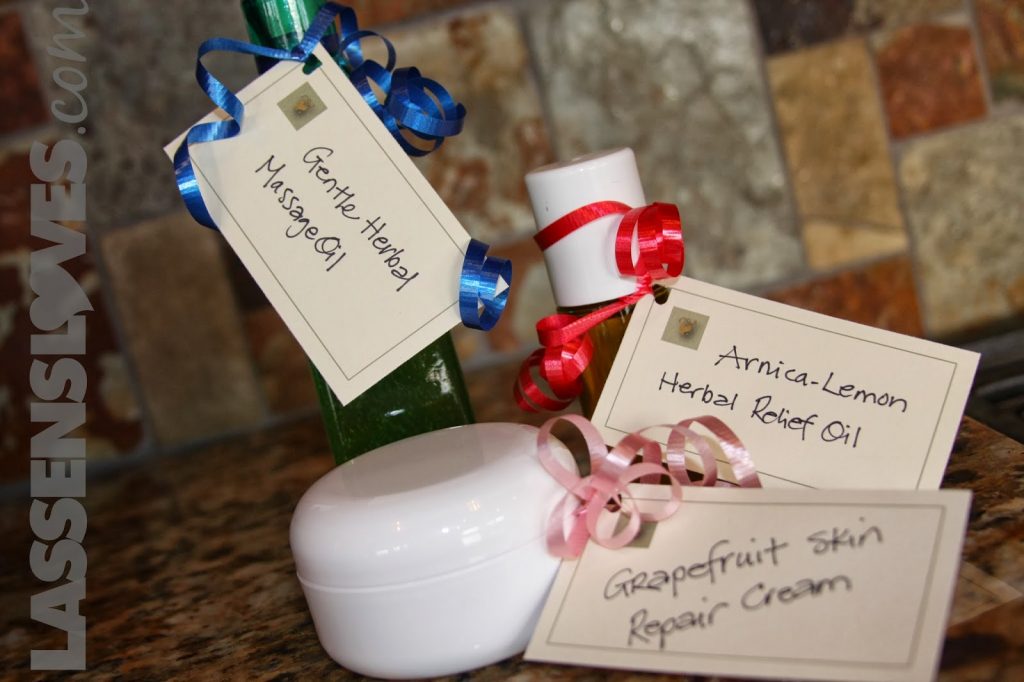 2 oz Sweet Almond Oil (or 1 oz Almond Oil and 1 oz St. John's Wort Herbal Oil)
1 oz Arnica Herbal Oil
15 drops lemon Essential Oil
Pour all ingredients into a glass bottle and gently roll to distribute oils evenly. This is a great massage oil for sore muscles. Use as needed.
Grapefruit Skin Repair Cream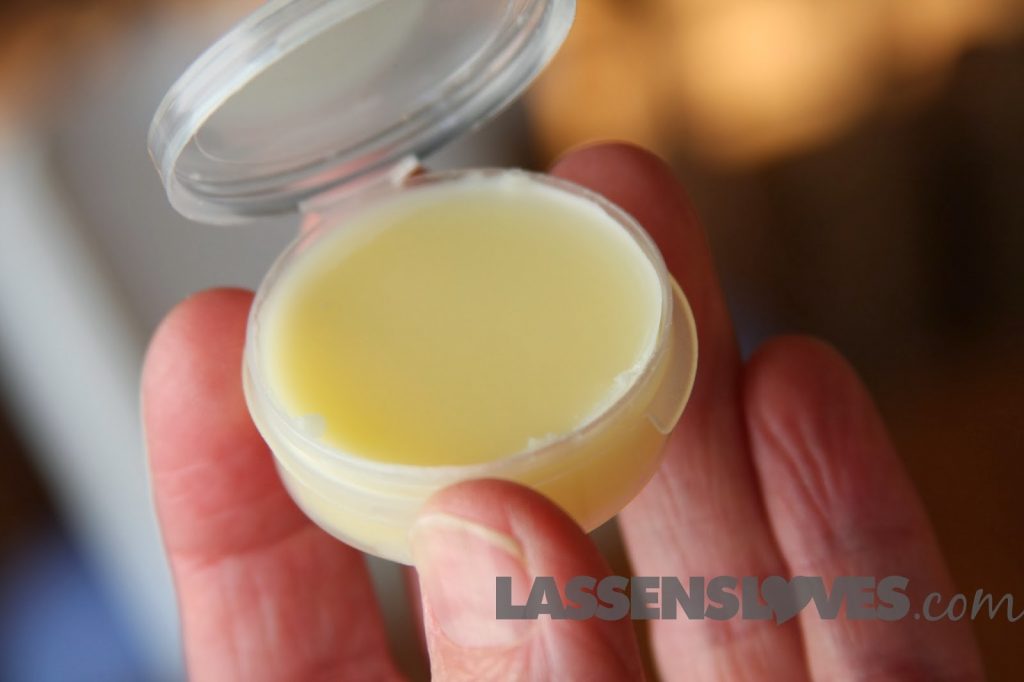 This isn't exactly a cream–it's more like a solid, but it will work wonders on those dry elbows and heels! This makes a lot of jars, or even bars (as you'll see later)
2 oz beeswax
1 oz cocoa butter
1 oz shea butter
2 oz jojoba oil
18-30 drops of grapefruit essential oil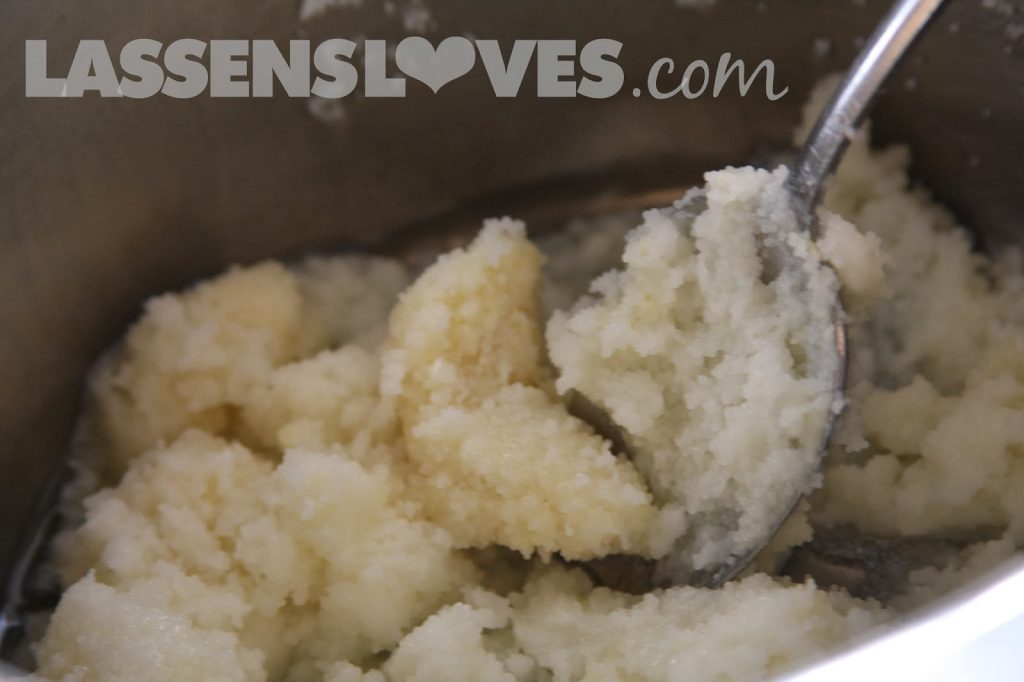 Melt the beeswax, cocoa butter, and shea butter. Use as low of heat as possible. Stir frequently.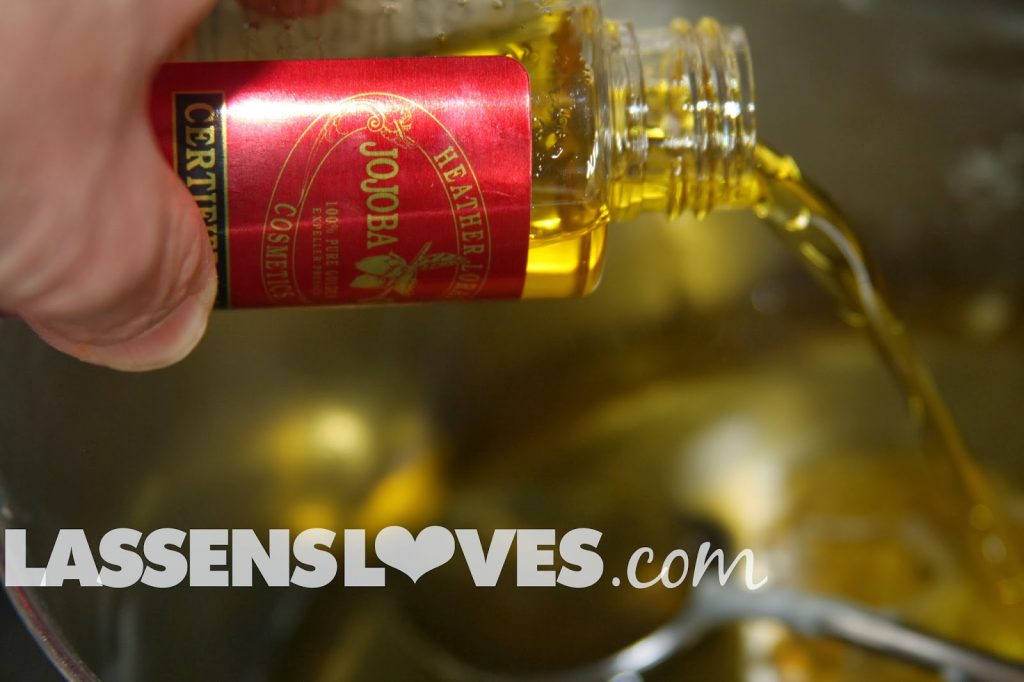 Add the jojoba oil. The cooler oil will harden some of the melted wax and butter, but don't be alarmed. Keep stirring until everything is melted!
Add the essential oil.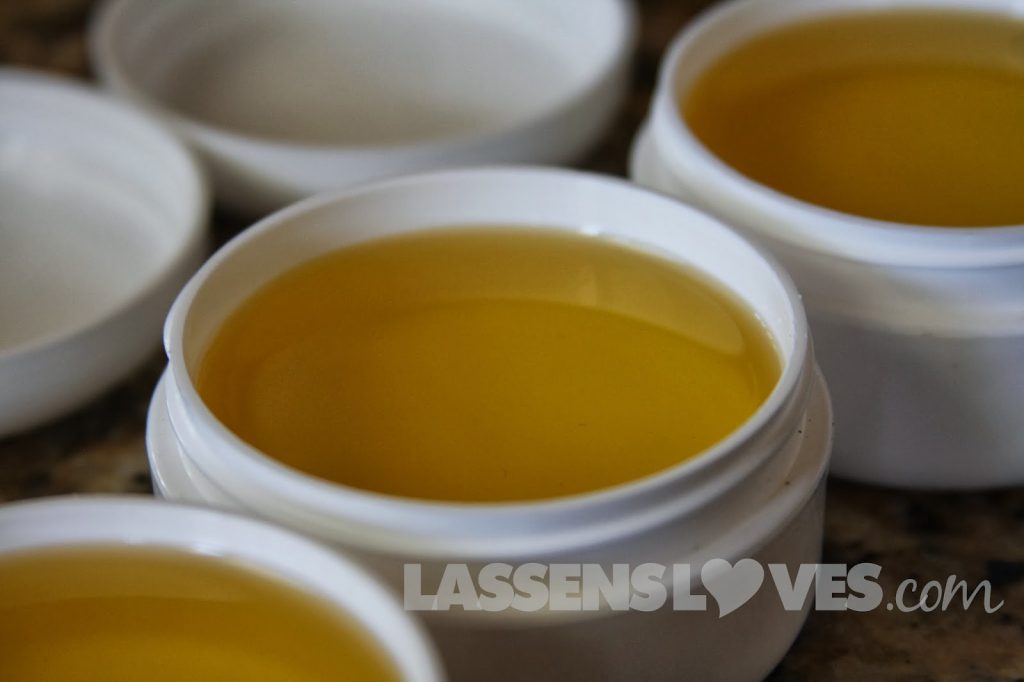 Now you can pour the liquid into molds or into jars or tins. I did both. We have these terrific jars at Lassen's in the cosmetics department. We carry them in several sizes.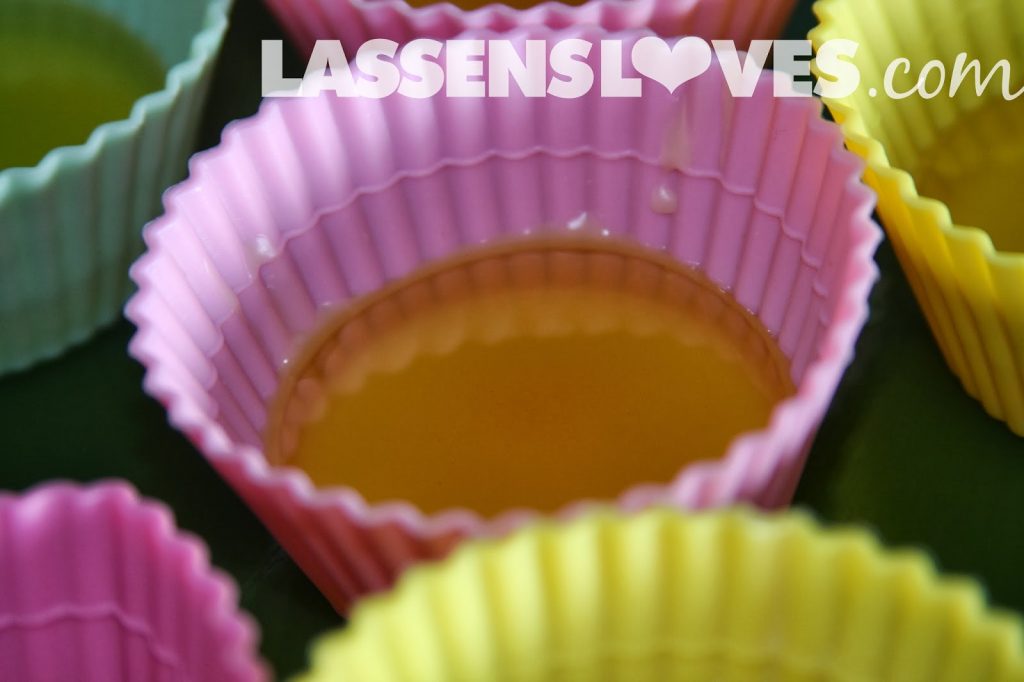 These are silicone molds that are very easy to use. I also have some in heart shapes.
If you make this as bars, I would suggest giving the recipient a little dish to keep their bar on.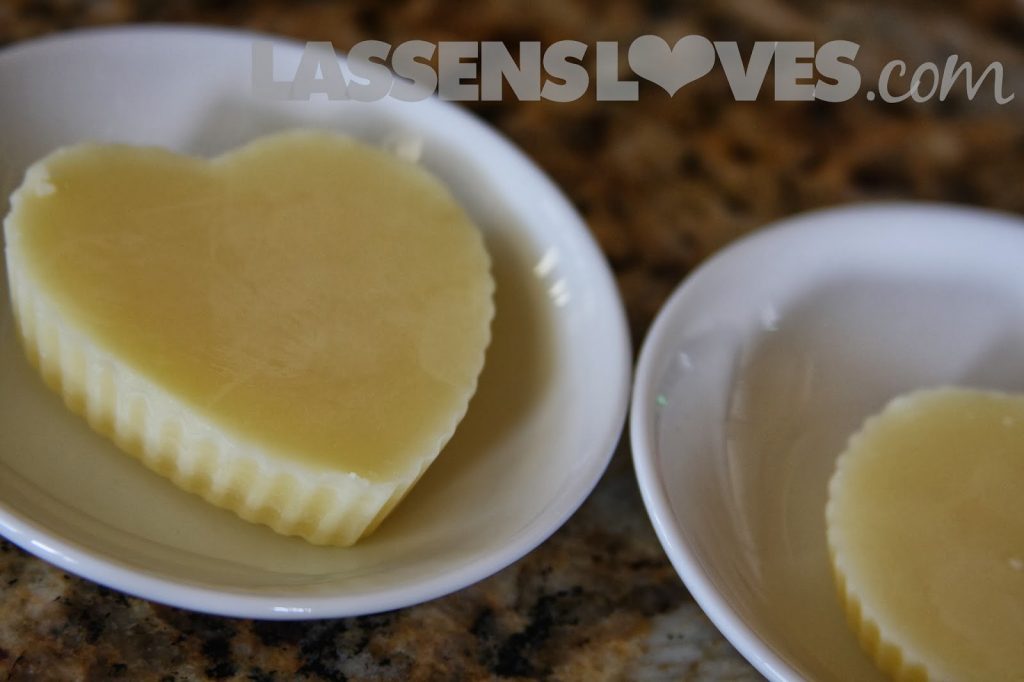 I love the little tiny sized to keep in my purse!
Enjoy this wonderful season! If you start these gifts now, you'll be ready for gift-giving in no time!
Love, Lassen's