It's a Meal All by Itself!
Forget pumpkin spice lattes, I'm talking dinner here! This meal can be assembled the night before and just popped in the oven to heat while you make a salad and set the table! Hearty, healthy, and delicious!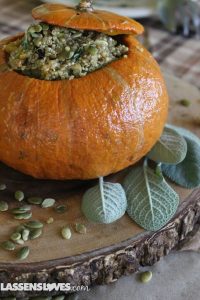 Vegan Quinoa Stuffed Pumpkin
Serves 4-6
You'll Need:
One 2-lb organic pumpkin, or other winter squash
1 TBSP olive oil
1 small organic onion
1 clove minced organic garlic
1/2 cup chopped organic pepper — I used yellow
1 & 1/2 cup cooked quinoa or rice
1/4 cup raw pepitas (pumpkin seeds), extra reserved for garnish
1/3 cup raisins
1 tsp vegetable or beef seasoning
1 tsp dried or 1 TBSP fresh thyme, extra reserved for garnish
1/2 tsp dried or 2 tsp fresh sage, extra reserved for garnish
salt and pepper to taste
1/2 mashed organic avocado
1 TBSP olive oil
Instructions
Preheat the oven to 375 degrees
Cut a lid off of the pumpkin and scoop out the seeds
Place the pumpkin in a large pan, cover with water, bring to a boil and simmer for about 20 minutes, until the pumpkin is slightly tender but will still keep its shape. When done, remove from the water, drain, and cool. Place in a baking dish or pie pan
Meanwhile, cook the quinoa according to the package directions
In a medium frying pan, sauté the onion, garlic, and pepper in olive oil
Remove from the heat
Add the cooked quinoa to the frying pan
Add the pepitas, raisins, vegetable/beef seasoning, and herbs
Season with salt and pepper to taste
Cool
Mash the avocado and add to the quinoa mixture
Spoon the quinoa mixture into the pumpkin shell, top with the lid, and brush the outside of the pumpkin with olive oil
Bake until heated through, about 35 minutes.
Remove from the oven and let sit for about 10 minutes.
Transfer the pumpkin to a platter and slice into wedges to serve. Top with extra pepitas, chopped thyme and sage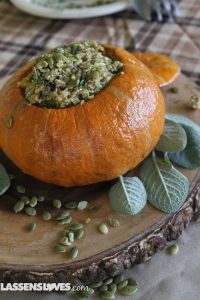 Enjoy the taste of the season!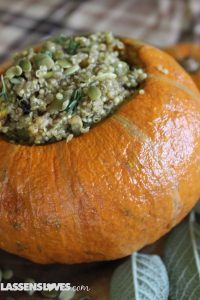 Love,
Lassen's