It's Worth It!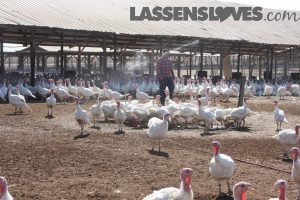 Ever wondered what free range really looks like? Here it is… turkeys on the free range!
You roast a turkey about once per year, right? And there are a lot of reasons why you should be picky about that bird. We believe in natural turkeys because:
They are naturally grown, without artificial growth stimulants or antibiotics. Shelton's likes to say "Our turkeys don't do drugs!" And of course most poultry producers are like drug pushers to their birds — feeding them biochemical feed so that they will grow fat fast. And it's not just fat and muscle that is growing faster, it's causing the birds to retain water. So the consumer ends up paying for extra water in commercially grown poultry.
They are raised in a humane environment – that means free range (open access), no cages, cared for by hand. According to the USDA, you can't claim "Free Range" unless the animals have access to the out-of-doors. Unfortunately on some ranches that access is in name only –there are only a couple of small doors, so that few, if any of the birds actually can get outdoors. But Shelton's turkeys, grown by Chris at Jensen & Pilgard's Turkey Ranch in the Fresno area, have no difficulty getting outside. They walk around, scratching and pecking at the ground — just like in old-time barnyards — healthy and natural. And the ranchers walk through the flocks several times a day, watching for any problems that may arise. Injured or ill birds are removed to the "hospital barns" for more care.
Shelton's turkeys are gently hand processed. This takes more time than machine processing, but it helps to assure that the birds do not get contaminated by the contents of the entrails. Clean, careful, safe.
When you buy a natural turkey, you are buying a natural turkey. Redundant? Not really. Many turkeys have water or brine injected into the birds before market. But Shelton's turkeys are tender and flavorful without being artificially pumped up.
Natural birds just taste better! Shelton's has been growing prize-winning birds for decades, and regularly blow away the competition in taste tests!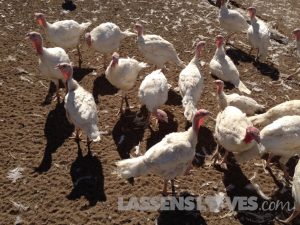 This is a photo of the turkeys that Gary took in June. They've really grown since then!
Natural Turkeys Rock!
Lassen's is proud to feature Shelton's Natural Turkeys for the holidays this year. I took a little trip north to Fresno to check out the birds and to hear the Shelton's story. It's actually the story of two families, going back many decades. Margaret and OJ Shelton received a hen and a tom turkey for a wedding present (I may have to rethink my usual wedding gifts now!) and started breeding trophy turkeys in the 1920s in the Pomona Valley of California. But people began to ask for their turkeys for their holiday tables. Word soon spread and the demand for their delicious turkeys grew. The family continued to supply holiday birds, and their son Fred eventually took over the business. When Fred, the last of the Shelton family, died in 1969, the Flanagan Family purchased Shelton's. The Flanagan family owned Kenlo Farms, an egg distribution business. Kenlo had been Shelton's largest distributor, so it was a great business marriage. They also added a chicken farm about 4 years later, and now Shelton's is the largest natural Poultry marketer in the country. Gary Flanagan, one of the Flanagan clan, met me in Fresno to check out the turkeys.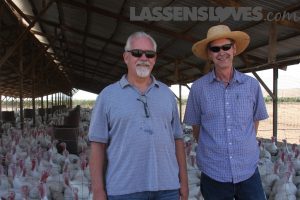 Gary Flanagan from Shelton's, and Chris from Jensen & Pilgard Turkey Ranch
But wait — there's more! We need to add another family into the Shelton's story. The turkey ranch is also a family operation, Jensen & Pilegard. Those of you in the Fresno area are probably familiar with their three lawn and garden stores in Fresno, Clovis, and Visalia. Well, Chris also has a turkey ranch, where he raises those natural birds for Shelton's. Chris's dad started the poultry ranch and feed mill in 1937, and eventually expanded to open the three stores. But the Turkey Ranch was what I came to see, and I was not disappointed!
Enjoy the photos, and remember to order your naturally delicious Shelton's Turkey from Lassen's for the holidays!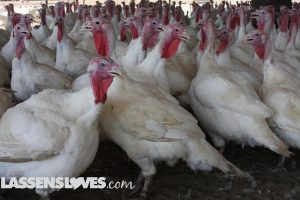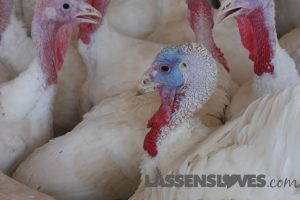 Toms have blue faces!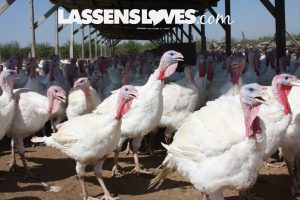 They were pretty interested in coming over to check us out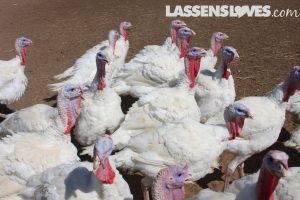 These are all Toms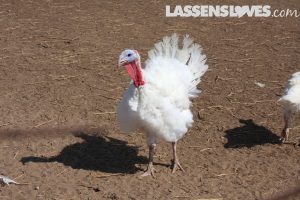 This Tom was showing off his tail feathers for us!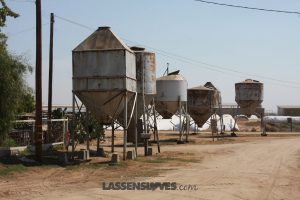 Here are the feed silos
Don't forget to order your naturally delicious, responsibility raised Shelton's turkey from Lassen's for your holiday table!
Love,
Lassen's