Bounteous Beauty!
September is Organic Harvest Month, and nothing says bounty more than a bowl of steaming soup, chock full of beautiful veggies. I've been waiting all month for cooler weather to share this delicious recipe, but we're nearly out of month! Here is my hearty vegetable soup, created just for you! This is a great basic recipe to use as a jumping off point for all of the amazing vegetables available! Add or substitute the produce that suits your fancy – just add the soft ones in the last few minutes of cooking so that they don't get mushy.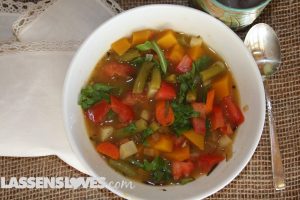 Organic Harvest Vegetable Soup
Serves 8-10
You'll Need:
2 TBSP Extra-Virgin Olive Oil
1 medium white organic onion, chopped
5 cloves organic garlic, minced
2 organic carrots, peeled and sliced
1 small organic celery root, peeled and chopped
1 tsp marjoram
2 springs fresh rosemary (or 1 tsp of dried)
4 springs fresh thyme (or 1 tsp dried)
2 springs fresh oregano (or 1 tsp dried)
1/4 tsp dried pepper flakes, optional, or to taste
1/4 cup white wine vinegar
2 quarts chicken or vegetable broth
1 small organic butternut squash, peeled and cubed
2 cups organic green beans or zucchini
salt to taste (about 1 tsp)
2 large organic tomatoes, cored and coarsely chopped
3 cups fresh organic spinach, kale, or arugula, coarsely chopped
Instructions:
In a heavy stock pot or dutch oven, heat the olive oil and add the chopped onion
Cook, stirring frequently, until the onion is soft and starting to brown. This will take about 8 minutes.
Add the garlic, cook and stir briefly just until the garlic is fragrant. Do not brown.
Add the celery, carrots, and herbs, then stir and cover. Reduce the heat, and allow to cook for about 5 minutes. Lift the lid and stir every minute or so.
When the mixture begins to sizzle and brown, add the vinegar and stir until it is nearly evaporated, then add the broth.
Add the butternut squash and bring to a simmer
Cook until the squash is fork-tender, but not mushy, about 20 minutes
Add the green beans and simmer for about 8 minutes
Taste, and add salt to your preference
Add the spinach, kale or arugula, and tomatoes, and just heat through
Remove the herb stems and serve
Here's to cooler weather!
Love,
Lassen's