Creamy and Delicious!
I found
this
recipe in the Williams-Sonoma catalog, and the combo of a sage-ie white sauce, butternut squash, and sausage had me intrigued. I first made it as directed, and then adapted it to make it more healthy! Here is my adaptation.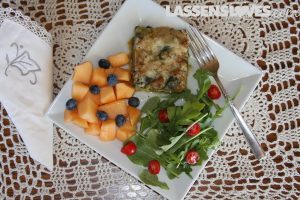 Butternut Squash Skillet Lasagne
You'll Need
1 TBSP olive oil
1 small organic onion, diced
4 cloves organic garlic, minced
1 lb mild chicken or turkey Italian sausage, casings removed
3 TBSP butter
3 TBSP flour
2 & 1/2 cups low-fat milk
2/3 cup grated parmesan cheese
1/4 cup chopped fresh parsley, reserve 1 tsp
1/4 cup minced fresh sage, reserve 1/2 tsp
1 tsp salt and 1/4 tsp pepper
2 large organic zucchini squash, ends removed, and sliced into thin sheets
2 lbs organic butternut squash, peeled and the neck portion sliced into wide, thin sheets
5 oz organic spinach leaves, washed and patted dry
Instructions:
Preheat the oven to 400 degrees
In a large fry pan, warm the oil and cook the onion until it is translucent
Add the garlic, salt and pepper, and stir briefly to heat. Do not brown the garlic
Add the sausage, cook and break into small pieces. Drain off the fat
Transfer the sausage and onions into a bowl
In the same pan, heat the butter, then stir in the flour. Cook about a minute
Stir in the milk a little at a time, whisking to thicken the milk. Cook until thick, about 5 minutes
Turn off the heat and add the parsley, and sage
Add 1/2 cup parmesan cheese
Pour about 3/4 of the creamy sauce into a bowl
Top the remaining sauce in the fry pan with layers of zucchini, butternut, sausage, and spinach
Make two more layers of sauce, zucchini, butternut, sausage, and spinach.
End with a layer of sauce.
Top with the remaining parmesan cheese
Bake covered 45 minutes or until the squash is tender, remove the lid and sprinkle with the reserved parsley and sage
Let stand 15 minutes uncovered
Serves 6-8
I think this recipe is a winner!
Love,
Lassen's