And Some Like Them Hot!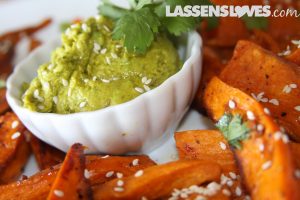 You know I love me some roasted sweet potatoes. (English teacher mother is rolling in her grave right now.)
Anyway.
I had some fun goofing off in the kitchen today with a couple of nice firm sweet potatoes, an avocado, spices…. Well, let's just get to it!
Roasted Sweet Potato Fries with Curry Avocado Dip
You'll need:
2 organic sweet potatoes, peeled and cut in wedges
2 TBSP olive oil
salt and pepper
curry powder
sesame seeds and cilantro for garnish
Avocado Dip

1 ripe organic avocado
2 TBSP tahini paste
1/2 tsp curry powder, or to taste
1/8 tsp salt, or to taste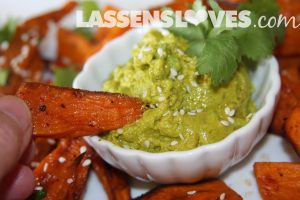 Instructions:
Preheat the oven to 400 degrees
Peel and cut the sweet potatoes, then toss in olive oil (I usually just put the vegetables on the baking sheet, drizzle with the olive oil, and then toss them around with my hands to coat)
Roast for about 15 minutes, stirring carefully at about 8 minutes
Turn the heat up to 450 degrees and then roast an additional 5 minutes at a time, stirring and checking to see if they are golden. When they have browned a little bit, remove from the oven and let cool for a few minutes, then sprinkle with sesame seeds and cilantro to garnish
While the sweet potatoes are roasting, make the curry avocado dip
Mix the ingredients together and season to taste
Serve immediately
Love,
Lassen's