Healthy and Happy Apple Slice Cookies, That Is!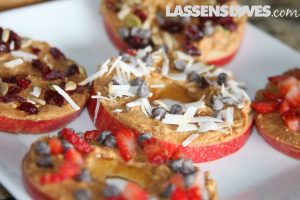 "Go have a piece of fruit" was my general go-to answer for the after school hungries, but here's a way to make that fruit more fun, too! The peanut (or other nut) butter adds needed protein for energy and will hold hunger at bay!
You'll Need:
Apples
Peanut (or other nut) butter (I love our peanuts-only Lassen's fresh ground organic peanut butter!)
Honey, if desired
Various toppings, such as:

coconut
chopped strawberries
blueberries
raisins
dried cranberries
nuts and seeds
granola
vegan chocolate chips
use your imagination!
Instructions:
Core and slice the apples (I used an old-fashioned potato peeler to remove the core)
Mix honey and peanut butter together, if desired
Spread each slice with peanut butter
Have everyone sprinkle their "cookies" with their toppings of choice
Enjoy!
So fun! The kids (and adults!) will love it!
Love,
Lassen's