One Word: Maaaannnnggggoooo!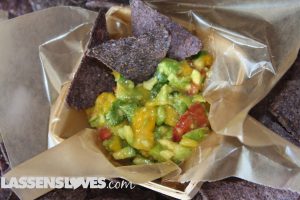 Since moving to California (35+ years ago…) I have become a mango fiend. I don't think I'd ever even tasted a fresh one back in the day. But if I could have a mango every day, I would. And they are gorgeous right now!
I love to add mango to lots of dishes–salads, desserts, cereal, smoothies–you name it. Here's another idea–Add some mango to your guacamole!
Mango Guacamole
You'll Need:
1 ripe organic avocado, mashed
1/2 ripe organic mango, chopped
2 TBSP chopped organic green onion, both white and green portions
2 TBSP chopped organic cilantro
Juice of 1 organic lime
1/2 of an organic roma tomato, chopped
1/2 tsp-1 TBSP finely chopped organic jalapeño pepper, if desired
salt to taste
Instructions:
Mash the avocados, chop the mango, green onion, cilantro, tomatoes, and jalapeño pepper
Mix all together in a bowl
Squeeze the lime, add to the guacamole, and season with salt to taste
Serve with tortilla chips–I paired mine with some Blue Corn Chips!
Unforgettable!
Love,
Lassen's