Oda Saw She Could Help Solve that Problem
When I came into the Lassen family and learned that Oda owned and ran a Health Food Store, I just sort of thought, "Oh, that's cool." It wasn't until about ten years ago that it really hit me how astonishing that was.
Oda was born in August, 1918 — nearly one hundred years ago. That means that when the first Lassen's store opened in 1971, she was almost 53 years old. Fifty-three. At a time when most are thinking about the end of their careers, she bravely began one. But she was driven to do so because she saw a problem and she knew she could help solve it.
As mentioned in previous posts about Oda (read about her childhood, growing up, love of good, healthy food, during World War II in Denmark, immigration to America, and settling into a new country) she felt very strongly that quality food was extremely important.  She had lived through food rationing as a young mother during the WW II in Denmark, and knew what it felt like to not be able eat or to feed her children healthy food.
When the Lassens arrived in America in early 1952, the industrial packaged food trend was really gaining steam. Oda was appalled. She was horrified with much of American food — low quality, pre-packaged, tasteless, full of refined sugar, salt, preservatives and artificial ingredients, and definitely lacking in nutrition. This did not seem like progress to her. She knew how vital quality food was to overall health — she'd lived without it during the war and knew how detrimental that could be! She knew that families needed access to more healthy foods as well as information about natural solutions to health issues.
So once her youngest children were in school and more independent, she decided that she could do something to solve that problem. She took a job at a local Health Food store, and devoured as much information as she could. She took advantage of every opportunity, even questioning the way the owner ran the business. She was disgusted with much of what he did, from his product mix (junk food right next to the supplements) to his habits (smoking fat cigars in the office.) When he let her go in favor of a younger woman, she decided that losing the job was a blessing — that she could do better. She wanted to help her community to be knowledgeable about natural remedies and have access to healthy, nutritious foods .
The idea to open her own store began to grow and expand, and as she discussed it with Hilmar, he said he would help her do it. They found a little store to lease on Pickwick Drive in Camarillo, and got to work. They made plans and received permits, then built and set up everything. The shelves were cleaned and stocked. They opened the doors for business.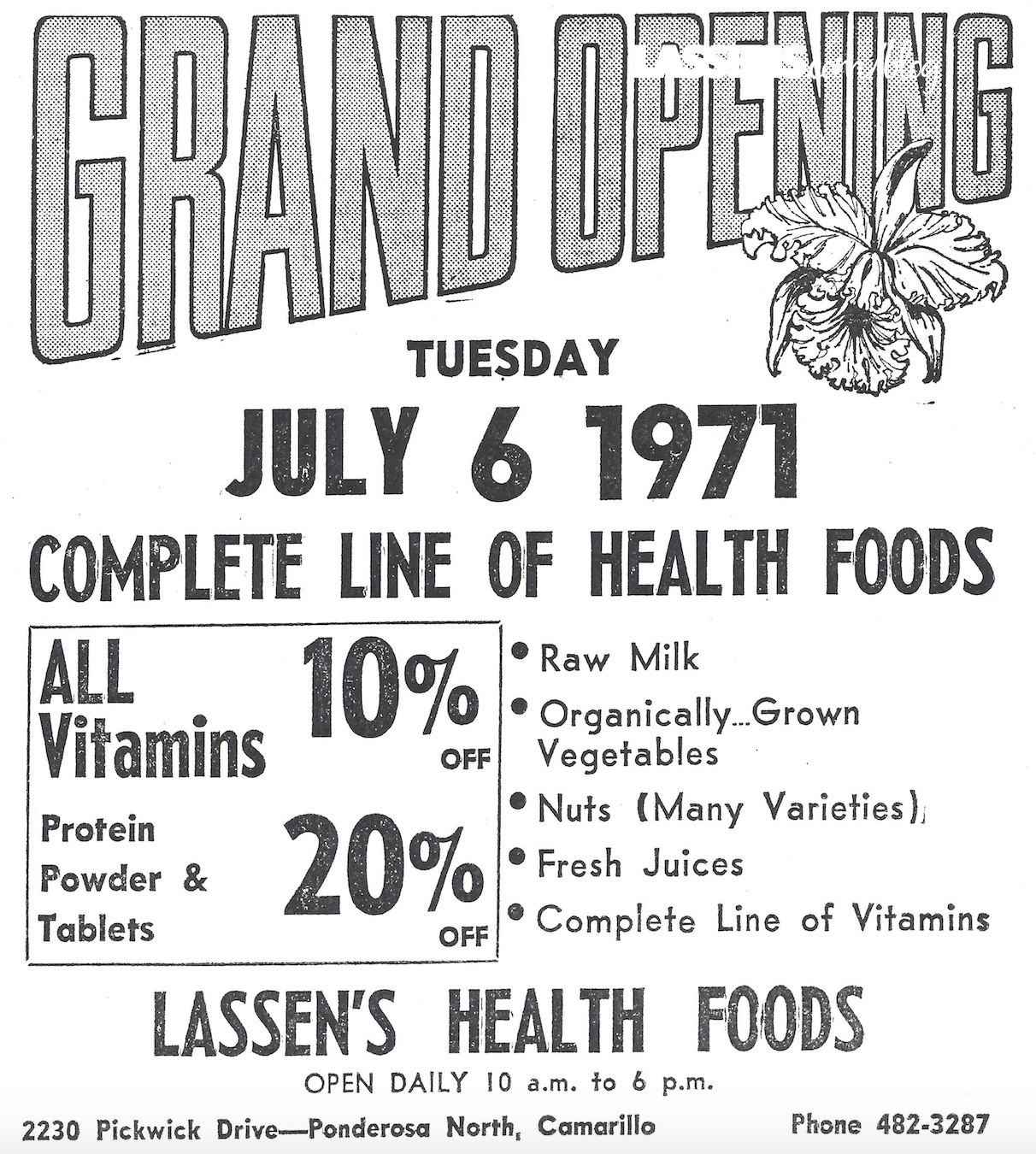 Forty-seven years ago this week, on July 6, 1971, Lassen's Health Food Store held its Grand Opening. This ad ran in the local paper. People began to shop at the little store, and Oda gained more confidence. At first the divider between the selling area and the back room was close to the front of the store, but as her sales volume grew and as the product offerings expanded, that divider was moved back farther and farther. After a few years she moved across the street into a larger store, and that store has been expanded another time since then.


This was very much a family undertaking, as shown here with a teenaged Anna. All of the Lassen siblings spent plenty of time after school and during the summer dusting shelves, stocking product, bagging nuts and dried fruits, and helping customers. Hilmar did the produce run to LA and served as the handyman, while still maintaining his masonry business.  But Oda was the hub of the business, and her customers remained loyal to her well after her retirement.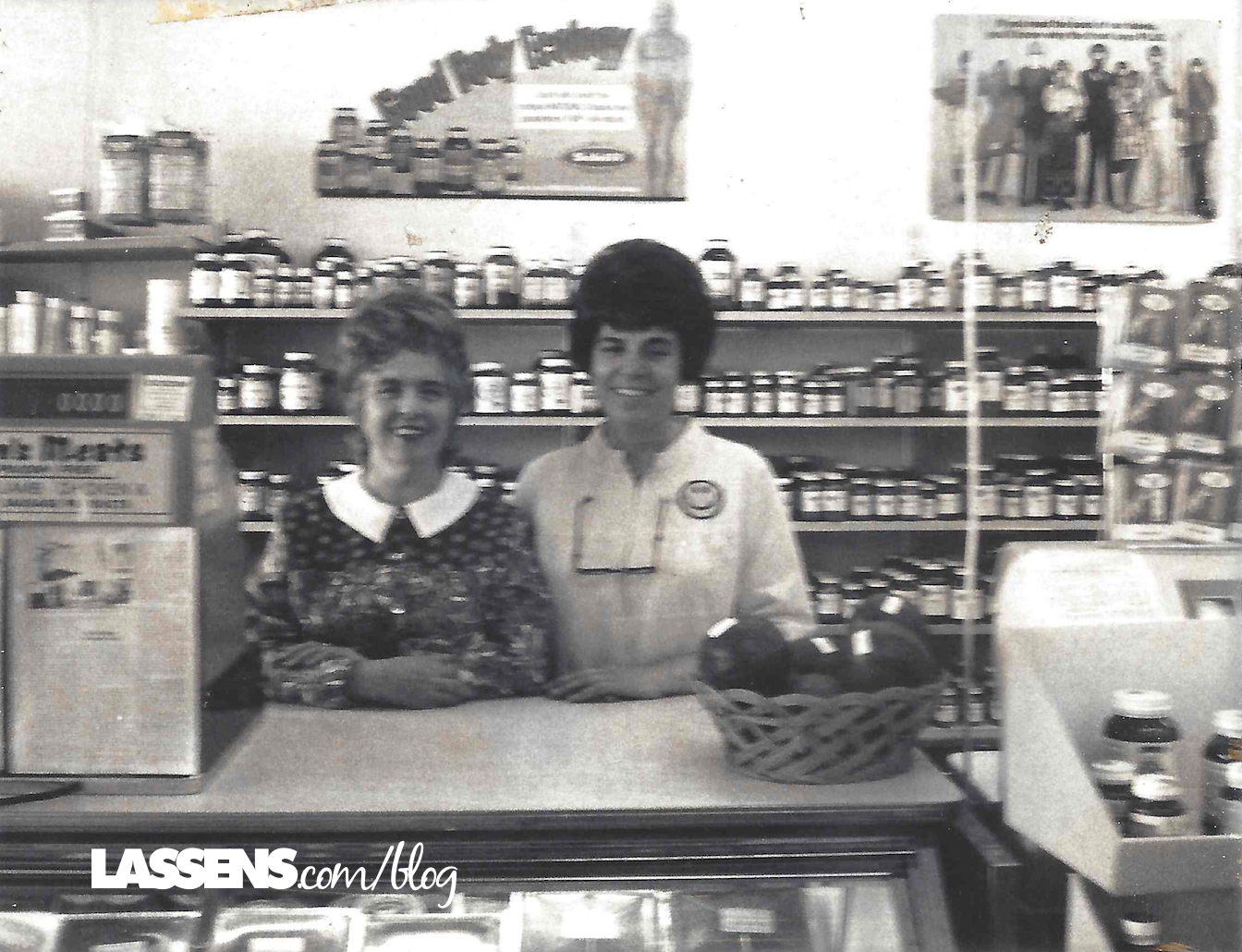 It was a big step when Oda was able to hire her first employee, Jennie. She became a wonderful asset to the business, and almost part of the family. You can see that there is a lot more product on the shelves than in the previous photo!
Many people told Oda and Hilmar that the Health Food craze was just a fad, and would never last. But Oda knew that this wasn't just a hippie thing — it was a basic, human, need to nurture bodies, strive to heal naturally, and to take care of the earth.
All along the way, Oda kept uppermost in her mind her purpose to provide families in the community with healthy,  nutritious, high quality foods and supplements. In those early days organic foods were difficult to find, but she sought them out wherever she could. And of course, the organic standards were not codified into law at that point, so she had to be extra vigilant in checking ingredients and manufacturing practices.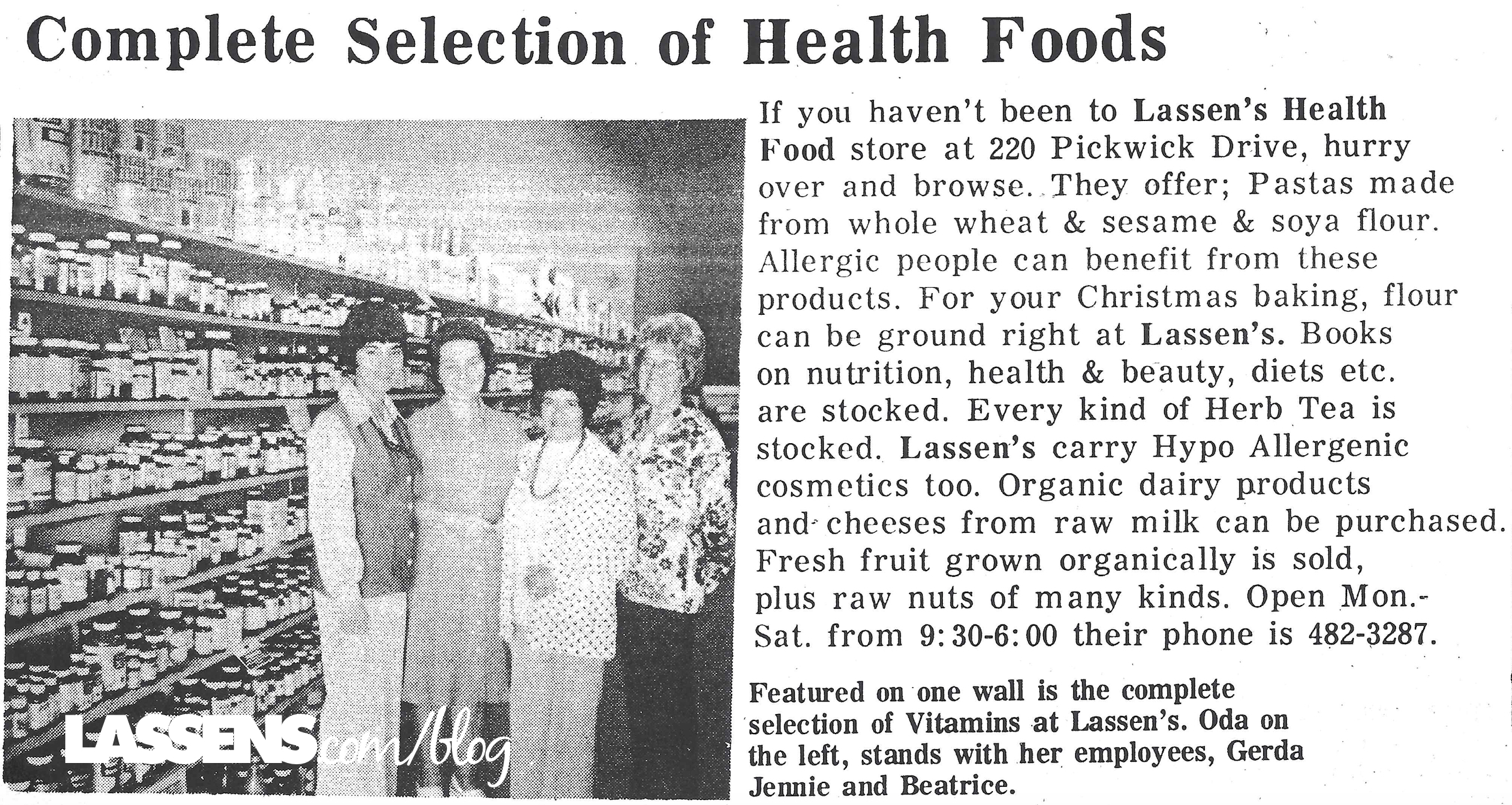 There were plenty of discouraging times, but Oda continued to build on her foundation of caring about everyone who came into the store. She learned more as she attended seminars and read everything she could so that she could help them with their health concerns.
Now, forty-seven years later, we at Lassen's strive every day to build on Oda's foundation of caring about our communities. Our dedicated buyers constantly search for the highest quality healthy, sustainable, and ethically produced items.  We feel grateful to have so many great producers, many who live and produce locally. Our knowledgeable staff is trained and anxious to help you find solutions to your health needs. Those are traditions that Oda started so many years ago — supporting both suppliers and the community.
Thanks, Oda, again for setting us on this path!
Love,
Lassen's