Thank Your Mother (Earth!)
Our motto at Lassen's is The Best of Everything Good. And one way we live that motto is in the products that we bring into our communities. As we celebrate Earth Day this month, as well as during our Earth Day Events on April 20-21, here's how we live The Best of Everything Good every day — not just on Earth Day — at Lassen's.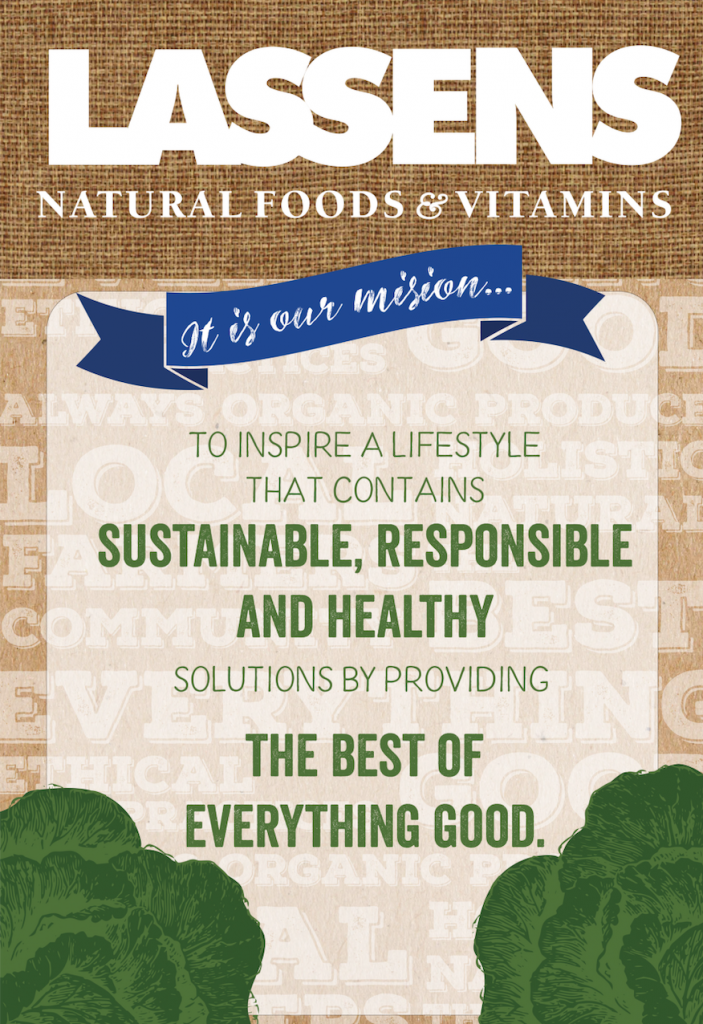 It goes without saying that we at Lassen's love our earth. Nutritious, healthy food is something good, and it depends on healthy soil, water, and air. That's one big reason why we are committed to 100% Organic Produce in our produce department. That's the best. When our crops are grown without toxic herbicides and pesticides in rich, healthy, organic soil, the whole ecosystem benefits. We've been singing the praises of organic food for a long time — almost 47 years! I wrote this post nearly four years ago about organic. Studies showing the benefits of eating organic are piling up! There is some skepticism about what organic means in the USA today, so I wrote a follow-up article clearing things up. Read it by clicking here.
Eating locally grown produce is another good thing! Lassen's loves to search out and support our local organic farmers as well — that's how we bring you the best of that good organic produce! Some of our farmers that we have featured here on the blog are Nojoqui Farms in Buellton, Green Gold Farms in San Luis Obispo, Rock Front Ranch east of Santa Maria, Chas Farms Blueberries in Oxnard, Forbidden Fruit Blueberries between Buellton and Lompoc, Las Palmalitas Avocados in Carpinteria, Ojai Olive Oil in Ojai, and many others. (Just search "Local" on the website and you'll see what I mean!) As we support organic farming, the farmers are encouraged to continue organic farming and to even expand. More organic farming means better soil. This blog post outlines some ways that farming organically may be a way to save family farms and push back the tide of huge Agro-businesses sweeping the nation.



We also support organic ranchers and egg producers. Burroughs Family Farm just north of Fresno produces Almonds, Beef, Cheese, Dairy, and Eggs, and Lassen's carries most of their products. Healthy soil is their passion, and everything that they do in all of their endeavors contributes to that goal. To them it's not enough to produce good productes. They want the best outcome for the environment as well. You have to try their delicious eggs! Diestel Family Farm raises organic Turkeys humanely with access to pasture and open air, and we are proud to carry their luncheon meats year-round, as well as their holiday turkeys. When you buy our Lassen's brand honey (also produced in Ventura County!), we donate to Honey Love in LA, and Central Coast Beekeepers' Alliance in the San Luis Obispo area. These organizations support beekeepers in the LA and Central Coast areas. Click here to learn more. Chino Valley Ranchers is another company that is passionate about humane and ethical treatment of their birds, and the quality of their eggs show that care. Smart Chicken is an amazing company that has developed best practices for healthier and tastier chicken, as well as humane animal treatment. There are many more ranchers, fishermen, and other producers that we love to support, and they have the same commitment that we at Lassen's do — to take care of Mother Earth.
Lassen's is passionate about more than just healthy food. Beauty care products, supplements, herbs, and home care products can all be produced in sustainable and environmentally friendly ways. Lassen's searches out these producers as well. The Seaweed Bath Company is one such company. They produce a really good, clean product, but they are the best at harvesting their seaweed in a manner that encourages continued growth and rejuvenation — thus caring about the health of our oceans. Essential Oils are a big part of many people's lives, and Aura Cacia pays close attention to every step of their manufacturing process, from seed to bottle.
Lassen's believes in something else that is good — nourishing our bodies with great supplements. But what makes us carry the best is that we are committed to high quality herbs and supplements. That's why you won't see bargain brands on our shelves. We carry only those brands that test and verify the purity and strength of their products. That's the best of everything good. One such brand is Mega Food. They manufacture their supplements from whole foods, and when we visited a few months ago, we got to see — and photograph — their whole process. That's real transparency — something definitely in the best category!
I could go on and on about our amazing producers and what we are doing at Lassen's to go from good to best. Lassen's buyers hold our standards high, and work hard to find the producers who are as passionate about those standards and about the environment as we are.
So Earth Day, to Lassen's, is more than just a once-per-year homage to Mother Earth. It's a deep commitment to sustainable and responsible environmental practices every day of the year. It's bringing The Best of Everything Good to our communities. Yes, we love to throw a big celebration at our Events, but that commitment to our beautiful earth is who we are.
So come into Lassen's and join in our quest to preserve and improve our environment!
Love,
Lassen's