Gift Ideas at Lassen's? Of course!
You know the feeling — you have just a few more things on your gift list for the Holidays, and you need to get some groceries. You can take care of both errands at Lassen's! You know we have great Always 100% Organic produce and the highest quality supplements and groceries (as well as our Delicious Deli food!) but did you know that our buyers are also always on the lookout for terrific gift items as well? Here are just a few of the hundreds of items you can find at your local Lassen's! (Remember that selection will vary by location.)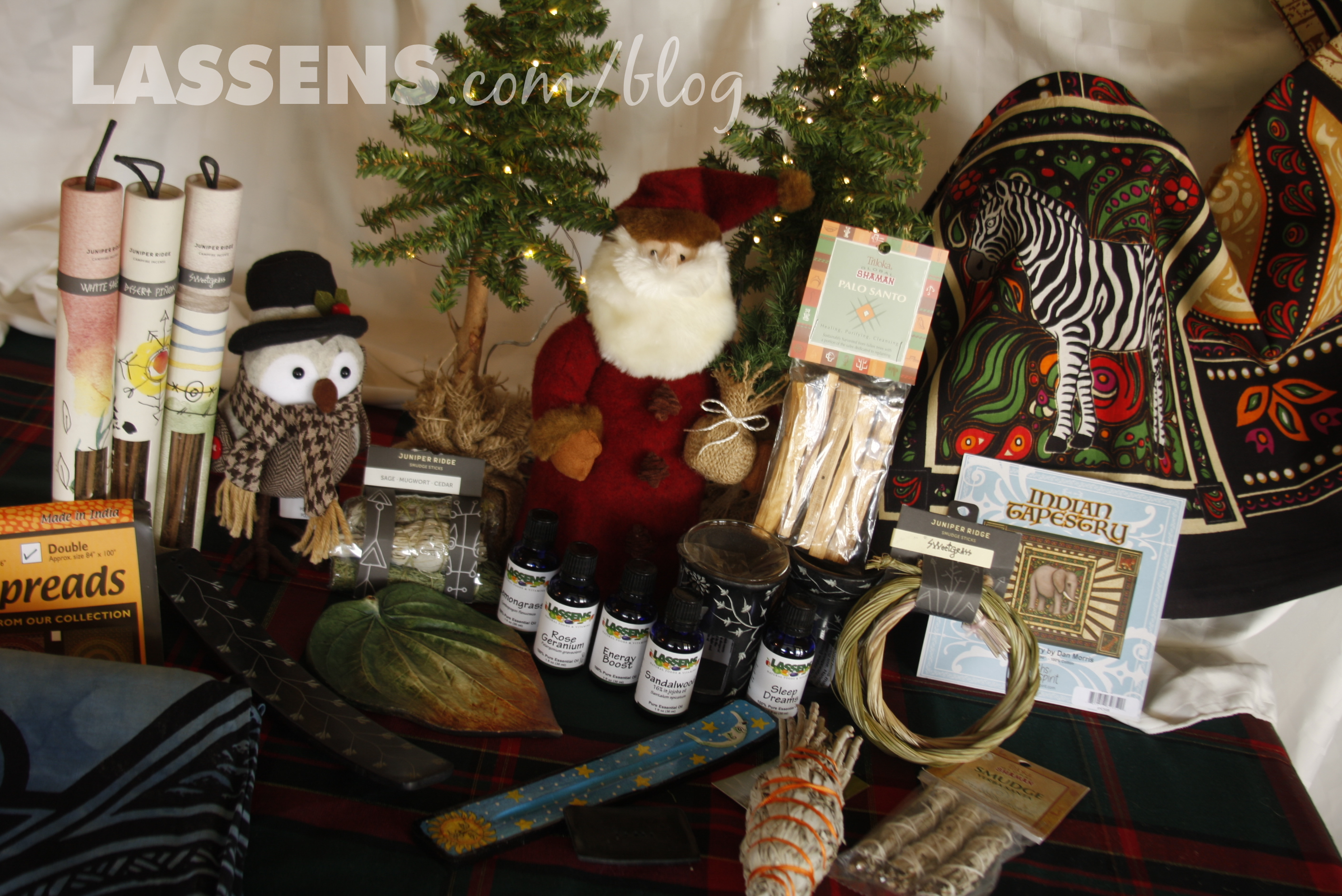 Here are several ideas from our Health and Beauty Aids Department. Essential Oils are always a great idea. Lavender for relaxation, Rose Geranium for calm, Lemongrass for a boost — we even have lots of blends ready to go! I really love the burning sage, sweetgrass, and assorted burning herbs. Incense and Incense holders are terrific gifts, and this year we also have Palo Santo sticks to add a fragrant scent to your holiday home! You can also pick up some great batik and printed tapestry table coverings or bedspreads at several of our locations.
For the Men — and others! — in your Life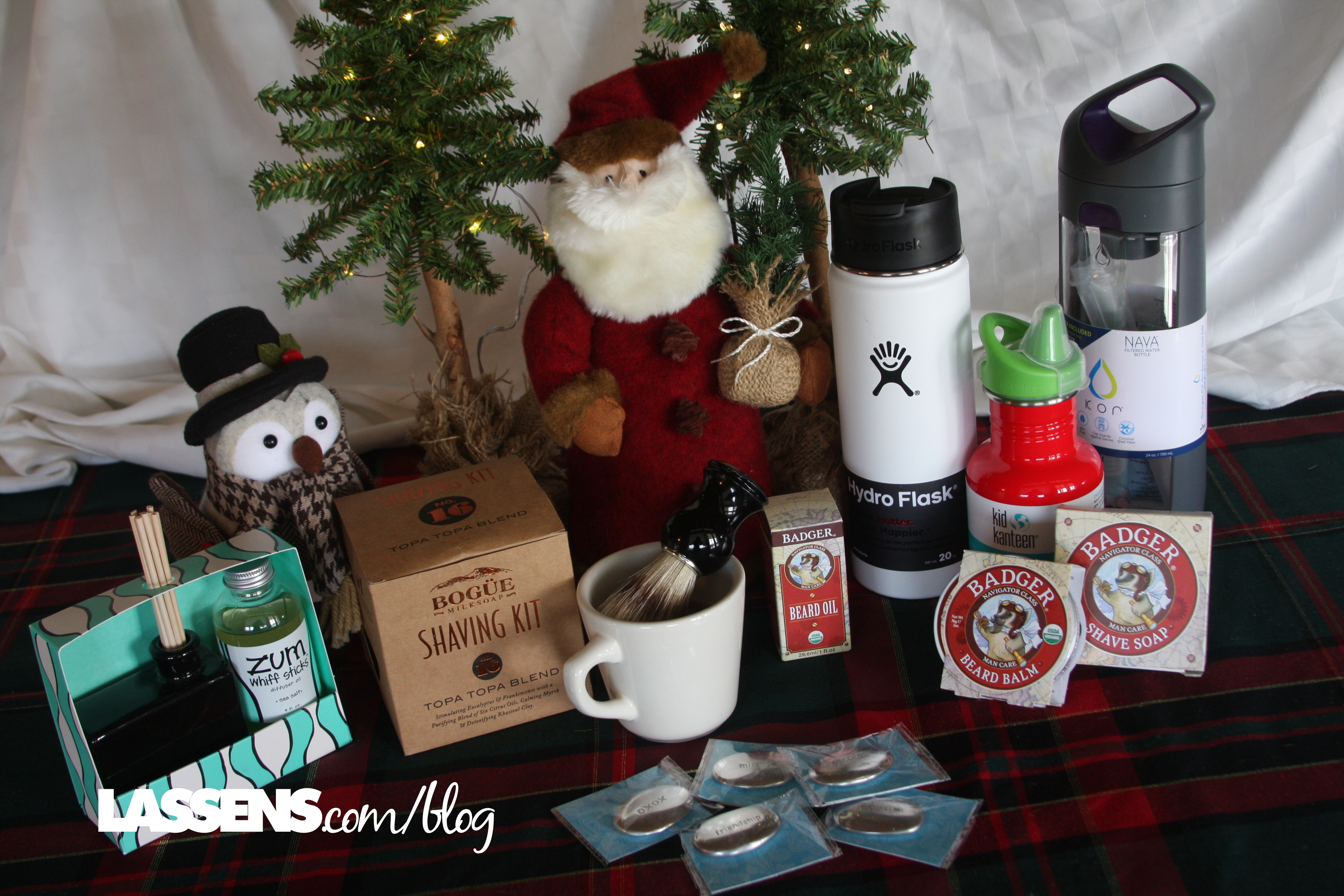 Bogue Soap Company has a terrific Shaving kit with a cup with shaving soap and brush. Adam and his mom Susan have a really interesting story, which you can read here. Their company is one of our wonderful local producers! Badger Shave Soaps, Beard Oil and Beard Balm would be perfect stocking stuffers for your bearded men!
Lassen's also carries a large selection of water bottles. Hydro Flask is one of the best companies — they will keep cold drinks cold and hot drinks hot for a shockingly long time. I had a HydroFlask with ice water stay cold (with solid ice) for two days in Las Vegas! The Nava bottle has a built in filter, and Kid Kanteen comes with a choice of pop-top or sippy lids — great for the little ones!
We have several varieties of Oil Diffusers — these from Zum come in various scents and are ready to gift! And I always love to have a little smooth message stone — these are metal — in my pocket or purse to help me meditate. Little worries seem easier to handle with something smooth to rub.
Don't forget your Doggie Friends! (or the Kitchen!)


These West Paw chew toys are great for the doggies in your life. The "S" shaped one is great for playing fetch, and your dog won't chew anything off of this bone!
I also love the crocheted coasters, and the penguin and bear scrubbie pads for the kitchen. This bamboo child's utensil kit is great to carry with you to prevent wasting so many plastic utensils.
But Wait! There's More!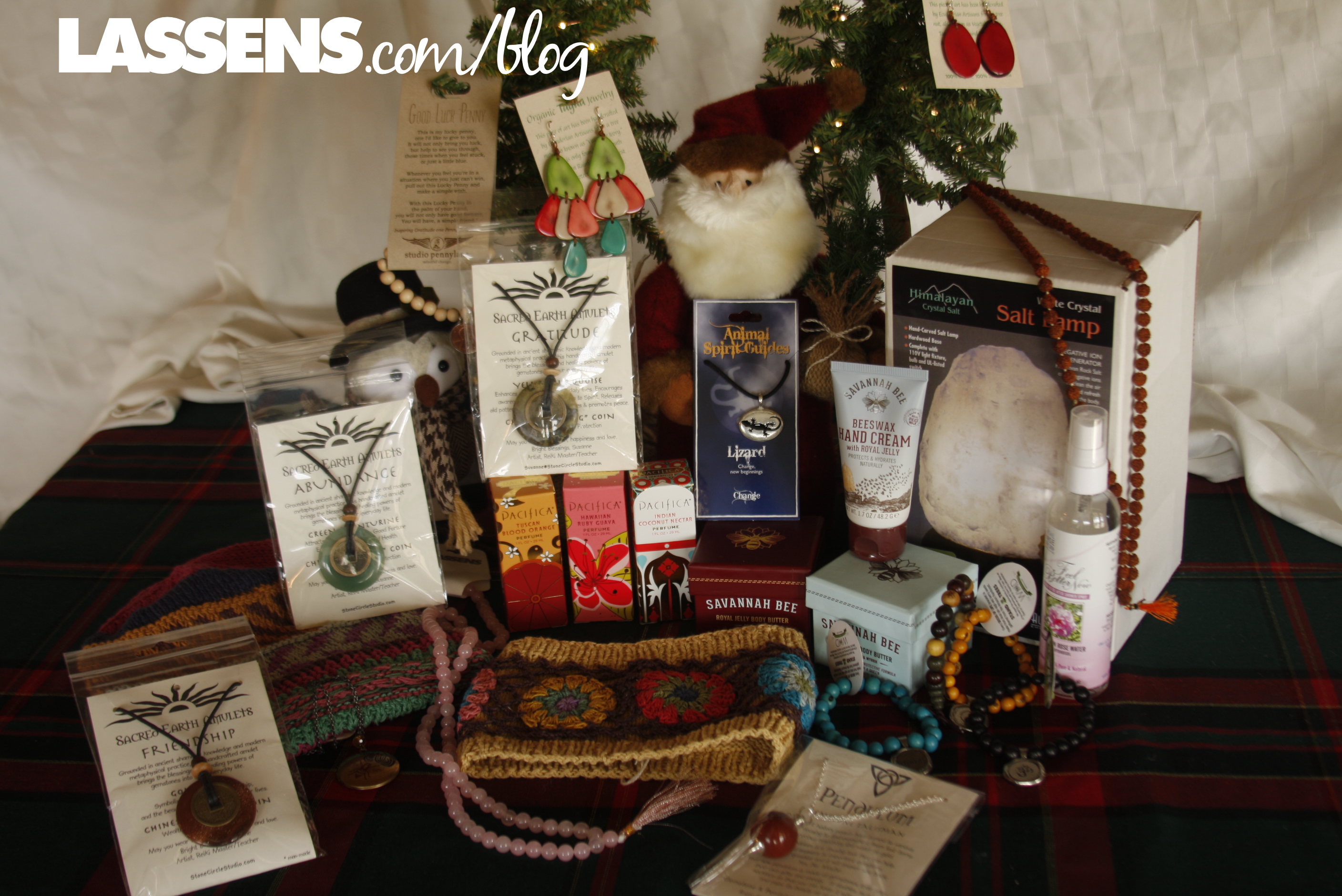 Earring, necklaces, bracelets, pendants, perfumes, lotions, yummy creams, headbands, rose water, beanies — take a few minutes to browse the fun treasures that our buyers have found! A Salt Lamp is a wonderful gift — the mild light adds a soothing glow to any room. I love the colors of this headband — don't be surprised if you see me wearing one like this soon!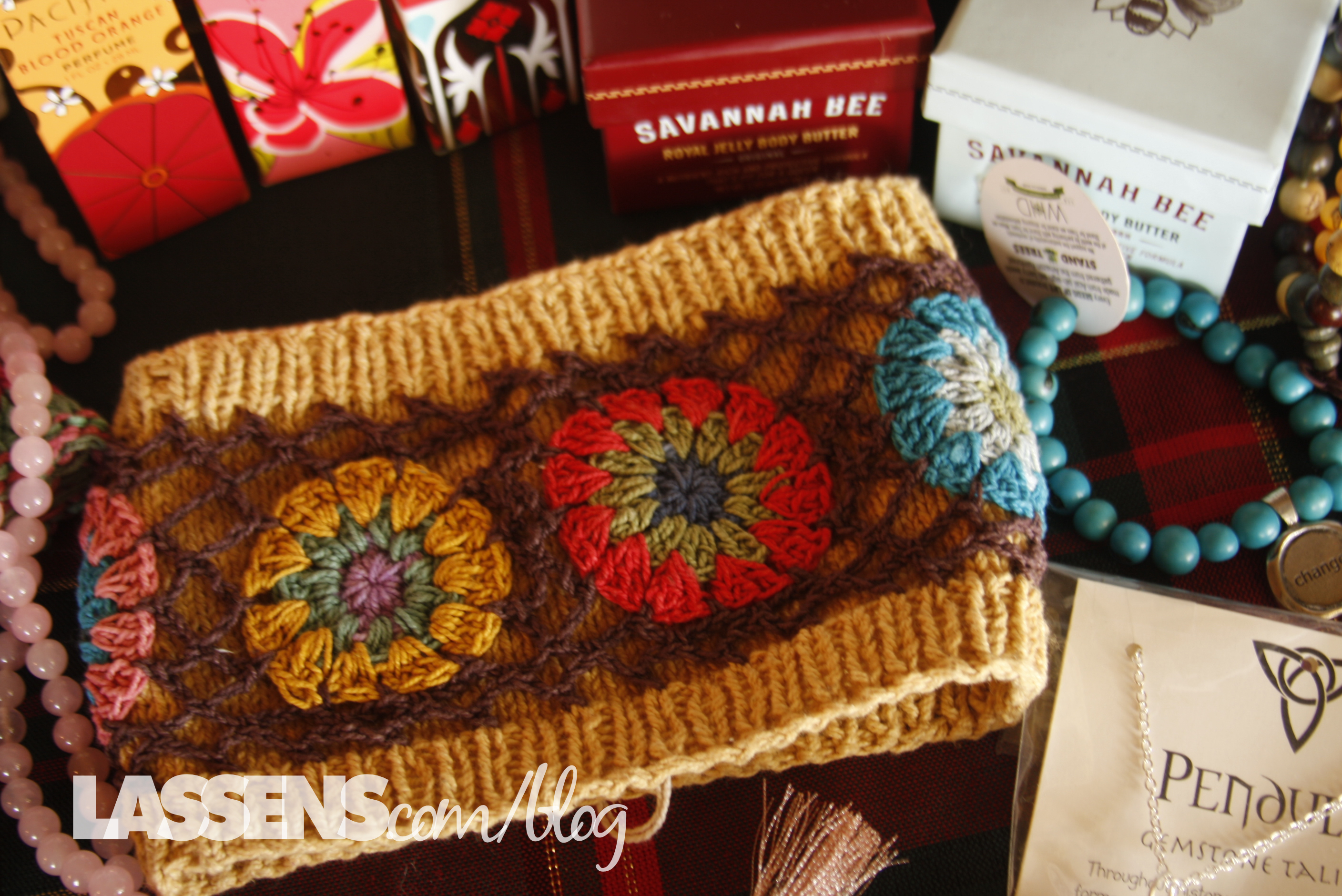 Can you say, the Cutest "Up-Cycle" Ever?
Years ago I posted how to up-cycle old jeans into beach blankets, but this gift takes that idea one step further. Look at this adorable bag made from the leather tags from those jeans! This creative idea makes me feel bad I just threw away those tags. The back is blue jean fabric to complete the up-cycle look!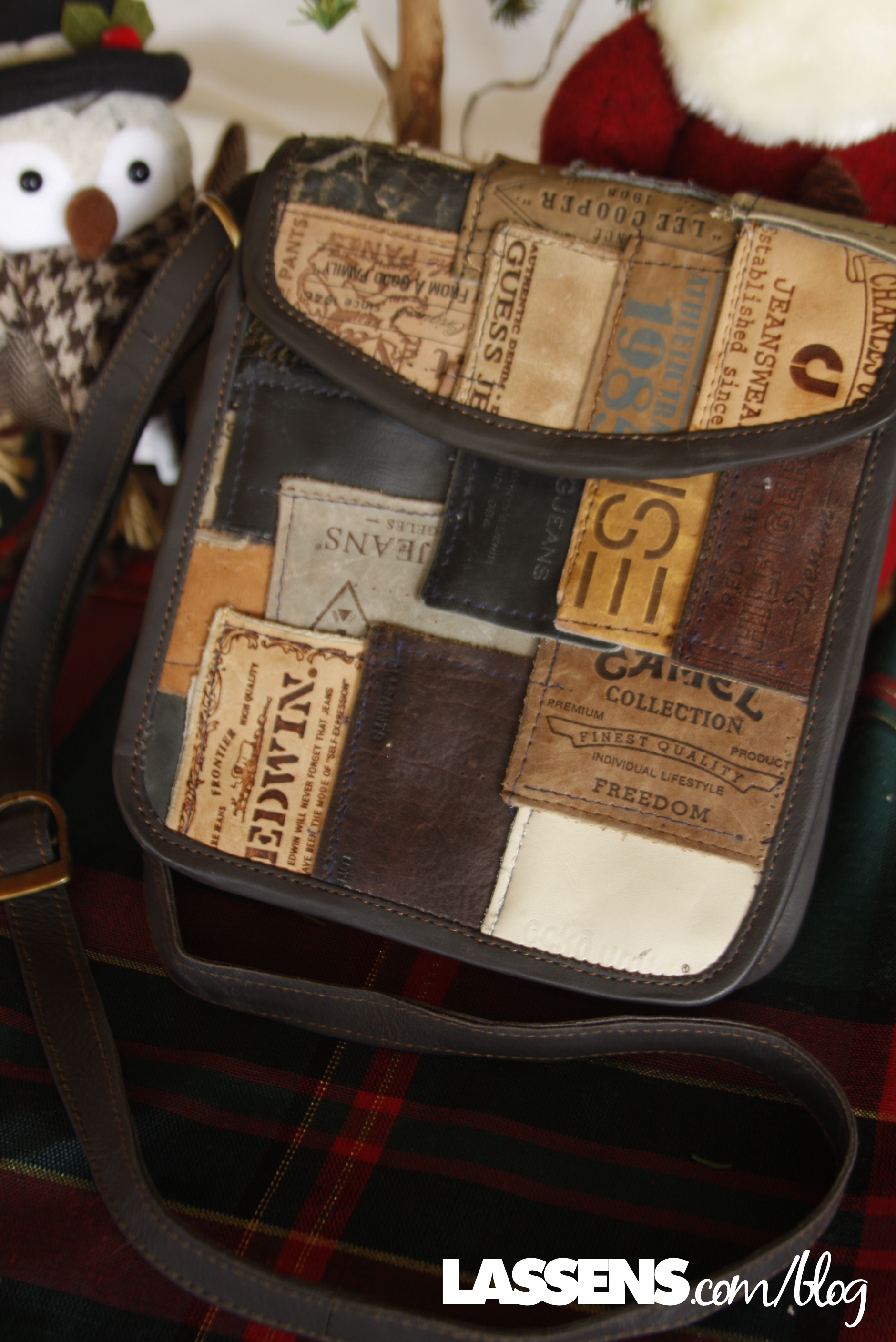 So next time you're in Lassen's, take a few extra minutes to browse our Gift selection. I think you'll be able to find just the right thing for the people on your list!
I'll bring you more ideas next time!
Happy Holidays from Lassen's!