You'll Totally Want to Fire Up The Grill for this Recipe!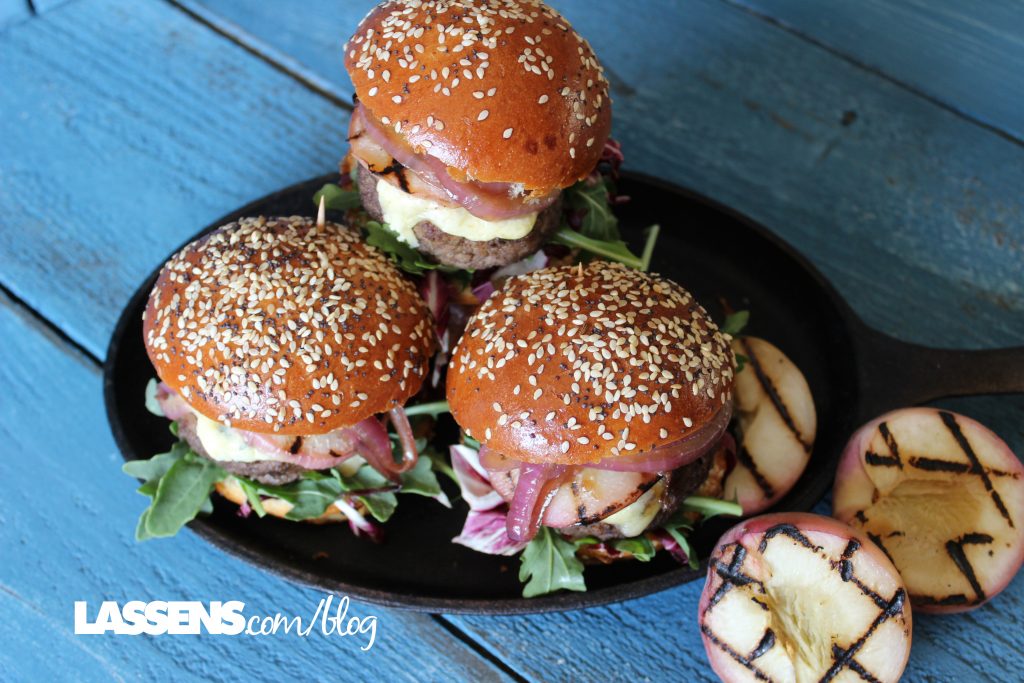 There's nothing like a burger when you want to shout "Summer!" and these are amazingly creative and delicious, to boot! So we give you —
Organic Grilled Peach & Cambozola Grass-Fed Beef Sliders
Makes 4 sliders
You'll Need:
1 lb. Organic Grass-Fed Ground Beef
Champignon Cambozola Cheese
Hamburger Slider Buns of Choice
Organic Cooking Spray
1 TBSP Majestic Garlic Original Spread
1 Organic Peaches
Handful Organic Radicchio
Handful Organic Arugula
1-2 Organic Red Onions, sliced
1 TBSP Balsamic Vinegar
Instructions:
Roasted Balsamic Onions: Preheat oven to 450 degrees, and lightly coat a shallow baking pan with cooking spray. Arrange the onions in one layer in pan and roast in the middle of the oven, stirring occasionally until golden brown and just tender, about 15 minutes. Drizzle vinegar over the onion and roast until most of the vinegar is evaporated, about 3 minutes. Season with salt and pepper, cover and keep warm
Grilled Peaches: Cut peaches in half and remove the pit. Brush lightly with olive oil. Heat grill to medium-low heat. Place peaches on grill; cover grill and cook until charred and softened, about 4-5 minutes per side. Set aside and keep warm
Burgers: Divide meat into 4 and form patties. Heat grill to medium heat. Season patties with salt and pepper to taste. Grill burgers to desired doneness
Toast buns on grill until toasty with clear grill marks
Assemble: Bun, Garlic Spread, radicchio and arugula, beef pattie, cheese, peaches, onion and top bun.
These will be the talk of your next barbecue! Enjoy this taste of summer!
Love,
Lassen's