Reaching Out to Serve
The plight of the citizens of Northern Uganda has been in the news cycle over the past few months. Invisible Children posted a video on the web about the hunt for Joseph Kony, the notorious leader of the brutal Lord's Resistance Army (LRA). His cruelty has been without bounds for over twenty years as he has led his band of rebels. They abducted children and forced them to become child soldiers, labor, sexual slaves, or all three. If they dared to cry or fall down or look at a rebel, they would often be killed—many times by the other abductees, in order to break their spirits. The children were sometimes forced to kill their own family members.
Kony's army terrorized a huge swath of Northern Uganda as they burned and pillaged village after village. He and his weakened rebel band are now thought to be in the Democratic Republic of Congo, where they continue to terrorize, pillage and abduct. President Obama sent a group of 100 advisers to Uganda in 2011 to aid in the hunt for Kony. Northern Uganda today is relatively safe and peaceful, but the effects of more than 20 years of war and displacement have left a majority of the population in poverty and without much hope for their future.
While information about Joseph Kony and the LRA came as a big shock to many Americans, we at Lassen's have had a Ugandan connection for nearly two years, and we are working to help some of the impoverished families to bring themselves out of poverty.
In the summer of 2010, I was able to go to Uganda with a group of American Women. The leader of our group, Judy Dushku, had started a Non-Governmental Organization (NGO) to assist the women of Gulu, Uganda, that she had met in previous visits to Uganda. My sister, Saundra, has been a friend with Judy since the 1970's, and this connection made it possible for me and all three of my sisters to go on this trip. The NGO is THRIVE-Gulu (From Survivers to Thrivers), originally called THARCE-Gulu. We were the first group to go to Uganda with this organization, and we had an amazing time learning the history, government and some of the culture of Uganda. We were even able to meet with Betty Bigombe, one of the few people who have met and negotiated with Joseph Kony.
Our NGO group with Betty Bigombe
But the main reason for our visit was to get our hands dirty, literally. The 14 of us helped build 6 mud huts for people who were the most needy in their villages. The Village Council chose the recipients. My sister Kathleen and I helped to build a hut for a disabled man name Dickson. We worked with David and John, who really did most of the work, and were nice enough to not laugh at our feeble attempts.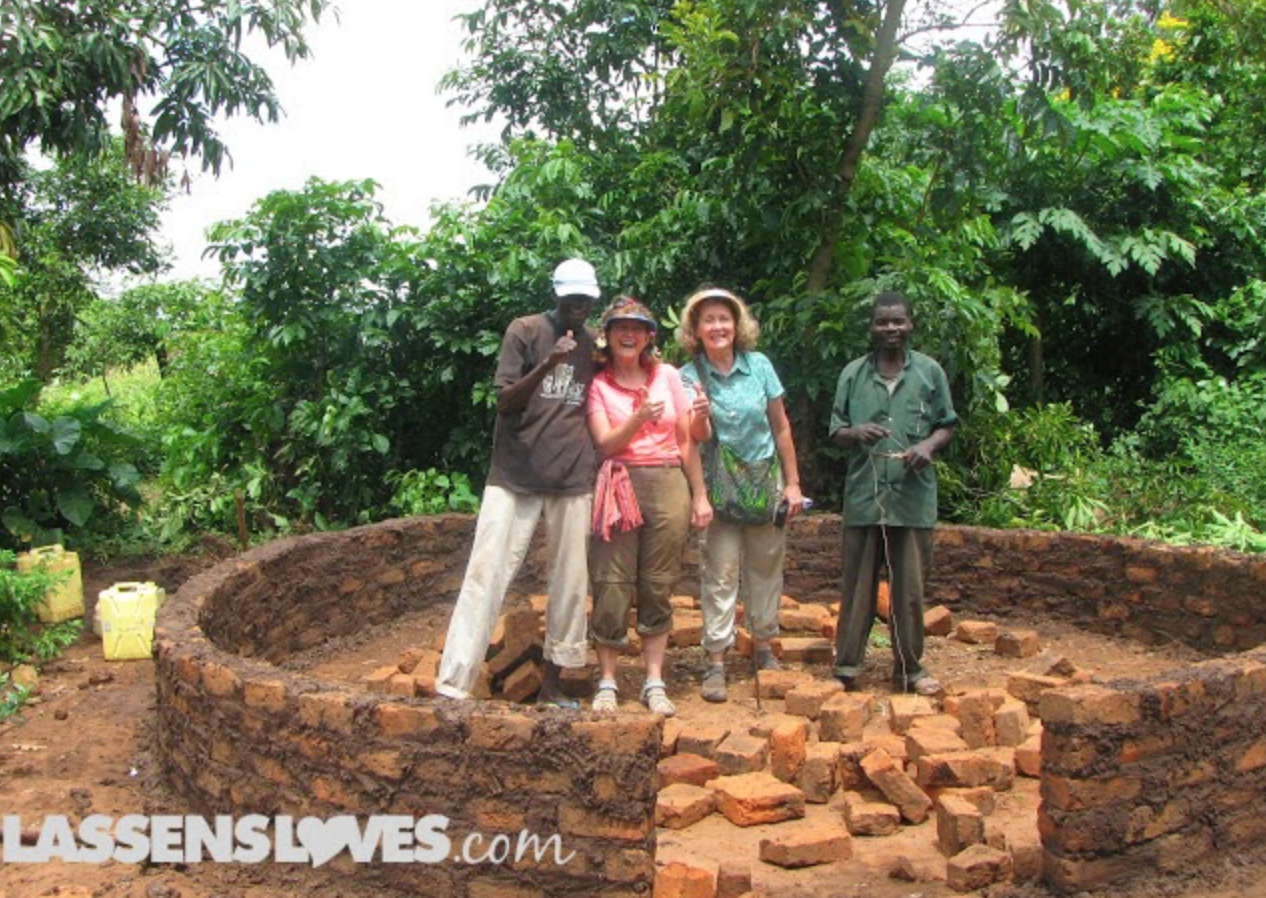 After one day of working on our hut — my sister Kathleen and me with John and David
That could not be said about some of the children, who thought it was hilarious that a bunch of muzungus (foreigners) were getting their hands dirty in their village!
On this trip we also met two groups of women, who have banded together to provide support and assistance and economic power to each other. Most of the women were former abductees, and often escaped under terrifying circumstances. Many came back from the bush with children, though they were barely adults themselves. They came back with no skills, little schooling, and no support from their displaced families and society. The two groups call themselves Beads of Hope, and Women of Peace. We gave the two groups treadle sewing machines to help them in their efforts to make a better life for themselves and their children. You will meet some of these women in future blog posts!
The Beads of Hope Women's Group
Both groups make handicrafts for sale to foreign visitors. It was with these groups that I first saw the paper beads and bags made from the gorgeous African wax-batik fabrics. I thought they were beautiful and the women showed such initiative. I brought a few items home to California with me, and the buyers at Lassen's were excited about the prospect of bringing the handicrafts into the stores. It is with pleasure that we are now expanding the items offered as the women increase their product line!
Look for future blog posts about the women and my experiences in Gulu!

Love,
Gayle at Lassen's