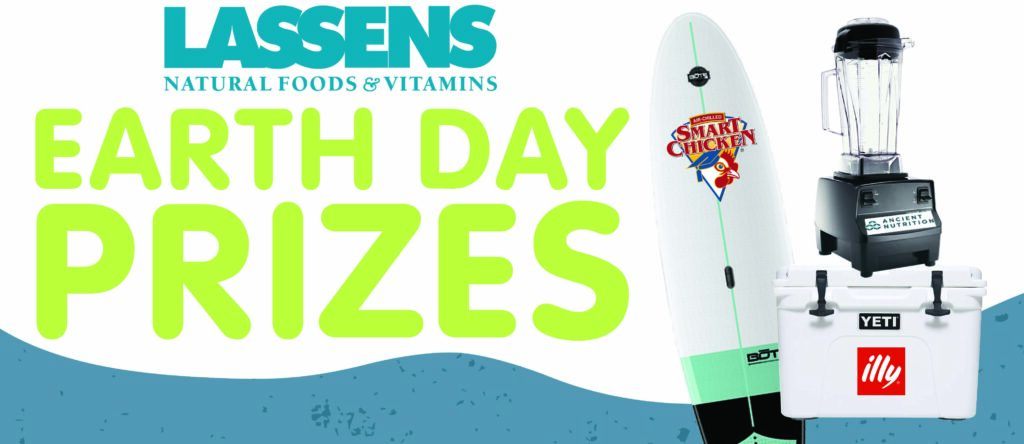 How to enter:
Follow Lassens on Instagram and follow the entry instructions on the post for the item that you want to win.

Participants must be aged 18 years or over. 

Participants must live near one of our 11 locations. Participants must be able to pick up their prize at one of our 11 locations. Prizes will not be shipped.

No purchase is necessary to enter.

Winner will be required to sign a release of liability form before they accept the prize.
Prize:
Lassens is offering a new prize every day of the giveaway period (April 18th to the 23rd).
Enter to win a new prize each day. Enter as many days as you like. 
Entries received on:
Day One (January 18th)- Will be entered to win one Vitamix A2500 Blender
Day Two (January 19th)- Will be entered to win one Tundra 35 Yeti Cooler 
Day Three (January 20th)- Will be entered to win one Vitamix Turboblend VS
Day Four (January 21st)- Will be entered to win one inflatable paddle board
Day Five (January 22nd)- Will be entered to win one Vitamix Turboblend VS
Day Six (January 23rd)- Three chances to win. One winner per prize. Bona Fortuna Gift Bag and Bamboozle Countertop Composter.
Prize winner will be drawn from the entries for that day's post only.  The prize will be announced at 10 a.m. the following morning and entries will be closed at 9:59 a.m. the following morning (24 hr period), when the new prize is announced. Raffles that occur on Saturday will have a winner drawn on the next Lassens business day (Monday) at 10am. Each post will have a new drawing. 
The prize is non-refundable, non-transferable and non-exchangeable and there is no cash alternative offered. Lassens reserves the right to offer an alternative prize of equal or greater value.
How the winner selected and notified:
The winner will be selected from the comment section of the post in which the prize was listed. Winner will be selected from eligible entries only.  The winner will be announced via Lassens Instagram stories at 10am the morning after the prize was listed. The winner will also be notified by Instagram Direct Message. If a winner declines the prize or fails to respond within the required period, they forfeit any right to the prize. If a winner fails to respond within 14 days of this initial contact, a replacement winner will be chosen from the participants. A winner may be required to submit valid identification before receiving their prize.

Lassens will then be in touch to coordinate transferring the prize to the winners preferred Lassens location so they can pick up their prize.
Lassens reserves the right to remove any inappropriate or offensive entries on the giveaway post and to discount any actions where good community spirit is not shown. Lassens also has sole discretion to discount participants it believes have been attempting to manipulate or tamper with the operation of the competition.
In the event of unforeseen circumstances or circumstances outside its reasonable control, Lassens reserves the right to modify or discontinue, temporarily or permanently, this giveaway without prior notice.
Lassens will not be liable for any loss (including, without limitation, indirect, special or consequential loss or loss of profits) expense or damage which is suffered or sustained in connection with this giveaway or accepting or using any prize, including any loss incurred as a result of any delay and/or failure to perform any obligation to the winner or other participants that is caused by:
technical problems of any kind which may limit or prevent any person's participation in the Giveaway;

any loss or damage arising from or in connection with the allocation or enjoyment of a prize;

any act or omission of any third party, particularly any third party involved in the provision of services relevant to the prize; or

any other events beyond Lassens control that may cause the promotion to be disrupted or corrupted or may lead to loss of, or damage to, the winner or to the prize.