Eggs with Everything
Written by Denae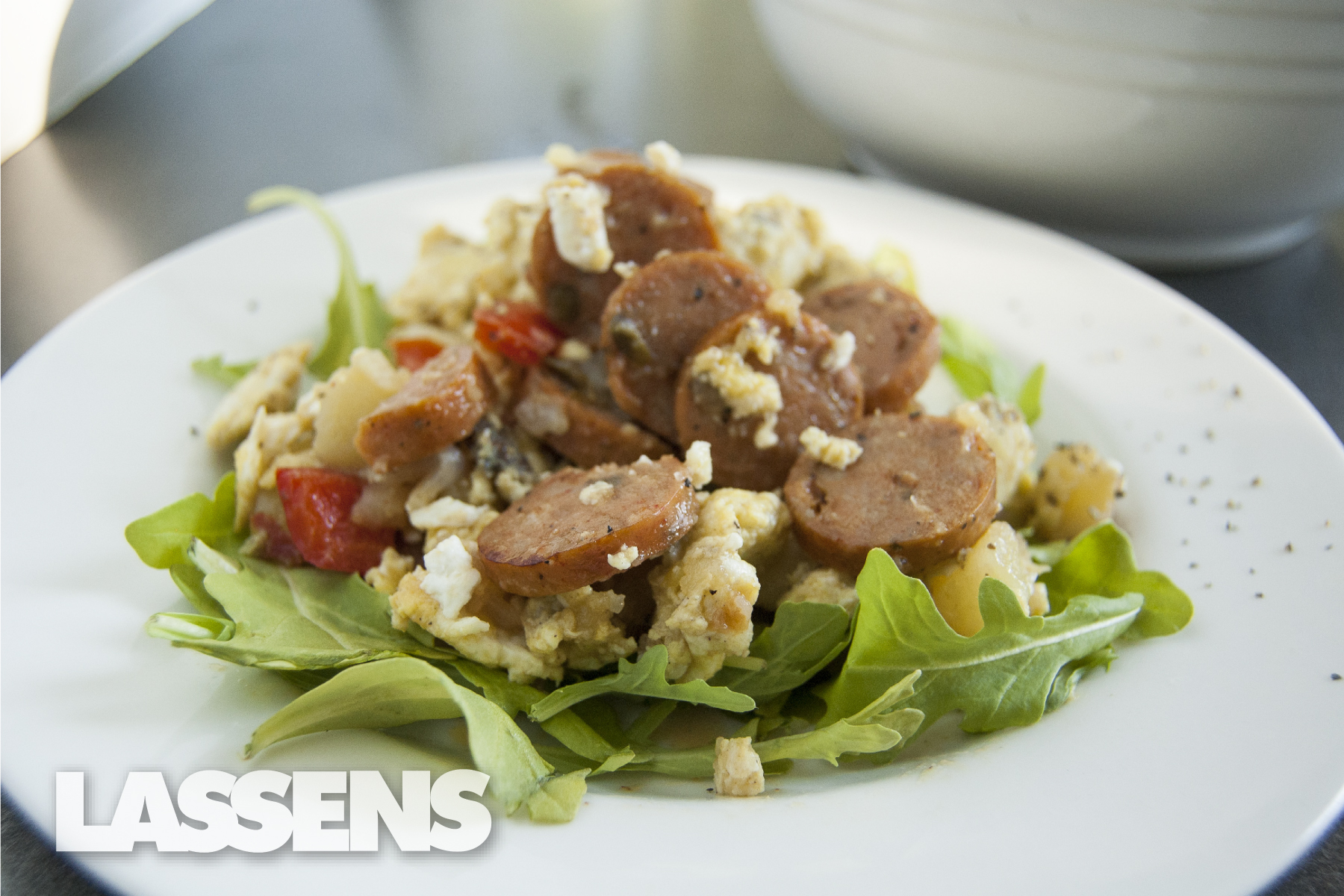 Breakfast food is amazing! Not just for breakfast, but lunch… and especially dinner! So while this recipe may be called appear "breakfasty", don't deprive yourself of deliciousness just because the time of day.
This meal always makes me think of Saturday mornings with my siblings. We'd sit around the kitchen and talk while I made breakfast, and for some peculiar reason it was always eaten in a cup instead of on a plate. I suppose those were pre-arugula loving days though. However, I will debate that it still does taste just a little better inside of a cup 😉
This recipe has a lot of flexibility, which is always nice if you're looking to whip something up real quick. Since I don't cook by recipes (making it really hard sometimes to remember to measure and write stuff down when doing these recipes) I've done a lot of different varieties of this same kind of dish.
The beauty is that it's general enough that you know you could throw whatever leftovers/veggies/meat/anything hanging out in the fridge, in with the eggs and BOOM you have a meal! When I made this recipe I had a bell pepper and red onion that needed to be eaten, so this was a perfect reason to use those up. The ingredients can be anything. Over the years we've thrown in anything from leftover steak, to frozen pre-seasoned potatoes, to food that was going to be tossed in a day or two if it wasn't used.
Get creative and share your creations with us by tagging either #lassens or #lassensloves
Add the 2 T of olive oil to the bottom of a pan and thoroughly cook any meat or potatoes with the onion. Move those to another bowl and add the remaining 2 T of olive oil to the pan. Cooking the vegetables will vary depending on if you want them crunchy or soft. For soft veggies: Bell peppers soften about 10 minutes Zucchini softens in about 5 minutes Green Beans soften in about 3-5 minutes Tomatoes soften in about 2 minutes